B&B Recap And Spoilers Wednesday, August 16: Brooke Shocks Ridge, Finn's Plea, Steffy Turns Liam Away
The Bold And The Beautiful spoilers for Wednesday, August 16 indicate that Steffy Forrester (Jacqueline MacInnes Wood) admits to Thomas Forrester (Matthew Atkinson) that is it weird not being with John "Finn" Finnegan (Tanner Novlan). Finn walks into the house and asks how this is possible.
Finn remembers proposing to Steffy outside and other special times. Finn is determined to go get Steffy.
Liam Spencer (Scott Clifton) remembers his conversation with Ridge Forrester (Thorsten Kaye). Ridge and Brooke Logan (Katherine Kelly Lang) have something to talk about.
The Bold And The Beautiful Spoilers – Brooke Logan Wants To Surprise Ridge Forrester
Ridge tells Brooke he was serious about another wedding. Ridge wants to show Brooke some of the gowns he has been working on. Brooke is so glad to be with Ridge again.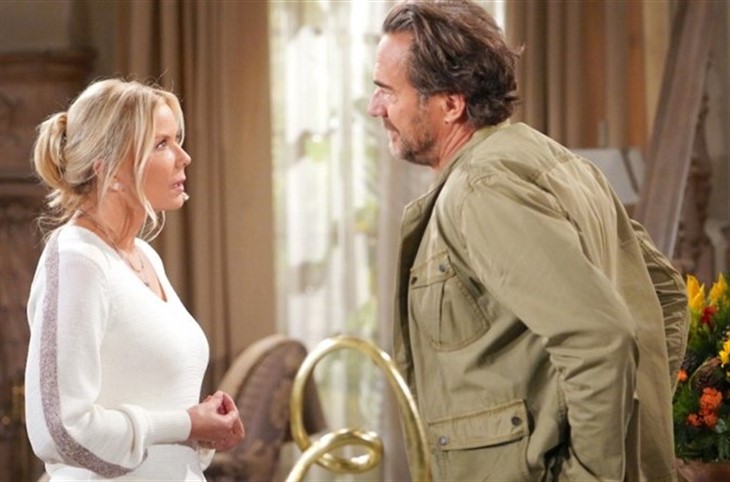 Ridge wants to show Brooke some designs. Ridge says his designs are about how he feels about her. Brooke takes his breath away. Brooke looks at all of the designs and says all of them would be beyond bold and beautiful.
Brooke says these dresses are exquisite but she wants to do this her way. Ridge tells Brooke to surprise him. Brooke says that is exactly what she wants to do.
Brooke says she is so happy being wrapped in Ridge's arms. Ridge and Brooke admit to being worried about their daughters. Ridge and Brooke can do anything as long as they are together.
B&B Spoilers – Liam Spencer Declares His Intentions
The Bold And The Beautiful spoilers reveal that Liam remembers running to Steffy on the beach. Liam thinks about Rome and kissing Steffy there.
Liam is determined not to let Steffy go again. Liam goes to see Steffy who is ready for bed. Liam didn't want to wait any longer to say what he has to say.
Liam asks about the kids. Steffy says the kids are asleep and her granddad is out. Liam tells Steffy how special she is.
Liam doesn't want to swallow his feelings. Liam has been thinking about their kiss and if he had another chance with Steffy, he would take it. Liam wants to respect Steffy's marriage but things have changed.
Liam wants it on record that he is still in love with her and always will be. Liam leans in and kisses Steffy on the cheek. Steffy tells Liam he should leave. Liam turns to walk away and stops at the door before walking outside. Steffy seems torn by his speech.
The Bold And The Beautiful Spoilers – John Finnegan Pleads His Case
Finn tells Steffy he doesn't want to spend another night without her. Finn brings his son's favorite toy to him. Finn asks how the kids are.
Finn wants to know if Kelly is ok after the beach. Finn doesn't want there to be any residual effects on their marriage. Finn asks Steffy for another chance.
READ THIS: Find out what happens next on The Bold and The Beautiful.
Finn says this time apart has reinforced how much he misses Steffy. Finn misses everything about Steffy. The beach house is too big for him alone.
Finn promises he will always keep them safe. Steffy believes Finn. Steffy wants to wake the kids up and take them home but she can't, not while Sheila Carter (Kimberlin Brown) is out there.
Finn wants to respect the time Steffy needs he isn't going anywhere. Nothing or no one is going to keep them apart.
Finn leaves and Steffy gets ready for bed. Finn returns home alone to the empty beach house. Finn vows that he and Steffy will be together.
Be sure to catch up on everything happening with B&B right now. Come back here often for The Bold And The Beautiful spoilers, news, and updates.