B&B Spoilers: Will Sheila Carter Die?
The Bold and the Beautiful (B&B) spoilers hint that Sheila Carter (Kimberlin Brown) could die. Some fans have a feeling that another murder will take place. Keep on reading to learn more.
The Bold And The Beautiful Spoilers – Sheila Carter Could Lose Her Life
The Bold and the Beautiful spoilers suggest that Sheila Carter could get killed off the show. Rumors have been swirling that either Liam Spencer (Scott Clifton) will play the hero or Dr. John "Finn" Finnegan (Tanner Novlan) will be the one to kill off his biomom.
Most fans don't believe that the daytime soap will kill off its biggest villain.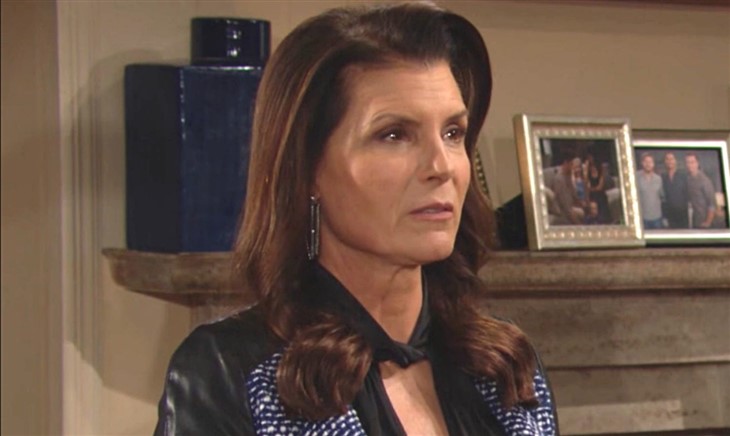 Sheila has survived so much over the years. She always gets out of prison. She always ends up with what she wants. Sheila made it clear that she will do anything to get back Finn and Hayes in her life.
Eventually, the show will have to kill her off, but at what cost? It could happen if B&B ever comes to an end.
According to Soaps.com, Sheila Carter tries to redeem herself after saving Kelly's life. She thinks this is the in she needs to get back into Finn's life once again.
Meanwhile, his marriage to Steffy Forrester (Jacqueline MacInnes Wood) is crumbling because of his biological mother. Ever since Finn hugged his mom, he's not sure how to feel.
B&B Spoilers -Who Would Kill Sheila Carter?
The Bold and the Beautiful spoilers suggest that Sheila's life will end in someone's hands. Steffy could be the one to do it in order to protect her kids.
Or, it could be Liam who wants to get back with Steffy and wants to protect their family. He's also made it clear that he's not a fan of Finn inviting his mom back into his life.
It could also be someone unexpected who does the deed. Liam doesn't always have to be the hero of the show.
Her potential killing could be so shocking that no one saw it coming. It would be a great way to bring some old-school soapiness to The Bold and the Beautiful.
What are your thoughts? Do you believe the rumors that Sheila will die? Do you see B&B killing off her character? Sound off below in the comment section.
As always, check back for more B&B spoilers, news, and updates.