The Bold And The Beautiful Spoilers: Liam's Deadly Obsession, Finn Saves Steffy?
The Bold and the Beautiful spoilers reveal that Liam Spencer (Scott Clifton) insists he is just trying to keep Steffy Forrester Finnegan (Jacqueline MacInnes Wood) safe. It seems logical except that one scene of Liam putting the old "STEAM" family photo on his desk.
Liam's protective quest could quickly transform into a dangerous obsession. Will John "Finn" Finnegan (Tanner Novlan) be the hero instead of the villain by the time this story ends?
The Bold And The Beautiful Spoilers – Sheila Carter's Manipulation
B&B spoilers reveal that it seemed Finn finally realized how dangerous his birth mother was during the shooting storyline.
Not only did Sheila kill Finn, who was brought back by Li Finnegan (Naomi Matsuda), but she tried to murder Steffy as well. Finn finally wiped his hands clean of Sheila. At least, that is what everyone thought until Sheila's court date.
Sheila is very aware of Finn's insecurities and vulnerabilities. So, it was easy for Sheila to say all the right words to guilt Finn into hugging her.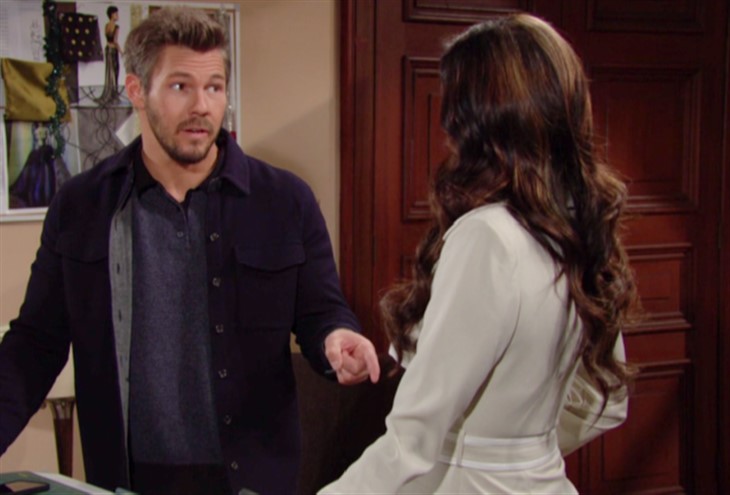 Finn was confused, emotional and blindsided at the time. Plus, Finn also didn't know how Sheila would react if he pushed her away.
B&B Spoilers – John Finnegan's Plea
Even though Finn initially blamed Liam for the breakup of his marriage, he will come to his sense. When that happens, Finn will reach out to Steffy again.
The weekly preview clip shows Finn begging Steffy to take him back. Finn knows he made a huge mistake with Sheila but promises that his family's safety is number one.
Unfortunately, Steffy isn't convinced that her family is safe from Sheila. With tears in her eyes, Steffy tells Finn that she can't forgive him.
The Bold And The Beautiful Spoilers – Liam Spencer's Mixed Signals
The Bold and the Beautiful spoilers reveal that Liam keeps sending Steffy mixed signals. On one hand, Liam claims that he's just looking out for the safety of Kelly Spencer (Sophia Paras McKinlay) as well as the mother of his child.
Liam also insists that he never intended to break up Steffy's marriage. Then, the next minute, Liam is planting unwanted smooches on Steffy's lips.
These constant mixed signals are making the situation even more perplexing for Steffy. Under normal circumstances, Steffy would slap Liam or even push him away. Steffy would also lay down firmer boundaries.
B&B Spoilers –'SINN' End Game?
However, Steffy's life is in limbo right now. There is too much that Steffy is dealing with and all of it could be life-or-death.
So, Liam's mixed signals are only making things more confusing for Steffy. While this could be unintentional, some wonder if Liam confusing Steffy is exactly what he wants right now.
Even though Liam seems to be the hero in everyone's eyes, that could change. What if Liam's quest to protect his loved ones turns into an obsession?
What if Finn was right about Liam all along? Will it be Finn that saves Steffy's life once again, this time from an unexpected and hidden threat… Liam Spencer?
Be sure to catch up on everything happening with B&B right now. Come back often for The Bold and the Beautiful spoilers, news, and updates.