B&B Recap And Spoilers Wednesday, August 2: Steffy Doesn't Trust Finn, Wyatt Calls Liam Out. Sheila Disillusioned
The Bold And The Beautiful spoilers for Wednesday, August 2 indicate that Steffy Forrester (Jacqueline MacInnes Wood) demands to know why Sheila Carter (Kimberlin Brown) was anywhere near Kelly Spencer (Sophia Paras McKinlay).
John "Finn" Finnegan (Tanner Novlan) days he turned his head and thank God Sheila was there because she saved Kelly.
Wyatt Spencer (Darin Brooks) tells Liam Spencer (Scott Clifton) that he needs to find a way to convince Steffy that she cannot trust Finn.
Sheila comes out of the shower, Deacon Sharpe (Sean Kanan) says she did a good thing saving Kelly today. Sheila hopes Finn knows she would do anything for him and his family.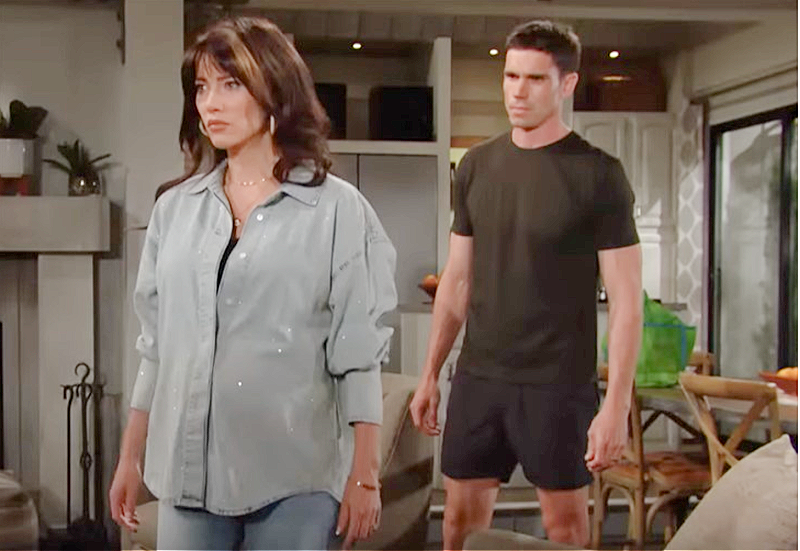 The Bold And The Beautiful Spoilers – Deacon Sharpe Offers Sheila Carter Advice
Deacon tells Sheila she is a hero today. Sheila says she didn't do anything that anyone else wouldn't do. Deacon says Sheila may have pulled off a miracle today. Sheila was thinking about anything but saving Kelly.
Sheila knows she can be a good force in Finn's life. Deacon can only imagine how Finn felt seeing Kelly out there in the water. Sheila says Finn called her mom.
Deacon remembers the moment that Hope Logan (Annika Noelle) finally accepted him, it was a great feeling. Sheila says Finn told Kelly she was his mother.
Sheila said nothing else matter, she was a mom, not a monster and she wasn't feared. A mom was all Sheila wanted to be.
Sheila stays Steffy has to be grateful to her because she saved her daughter. Deacon cannot believe that Sheila expects Steffy to thank her.
Finn says Sheila wasn't supposed to be near any of them. Deacon says Sheila did something selfless. Sheila says Deacon is out of his mind.
B&B Spoilers – Wyatt Spencer Calls Liam Spencer Out
The Bold And The Beautiful spoilers Wyatt tells Liam that he has to do something about this. Liam says what Finn did wasn't normal.
Liam isn't going to be so forgiving. Liam understands Steffy's need to defend her husband. Liam says Steffy still made excuses for him. Liam cannot trust Finn as a stepfather. Liam says he isn't trying to undermind Steffy's marriage.
This is about Kelly living under Finn's roof. Liam says it is ridiculous to think he showed Steffy the video to try to break up her marriage.
Finn is susceptible to Sheila and he is not going to allow her to hurt Steffy or his daughter. Wyatt points out that Liam keeps saying that he loves Steffy. Wyatt demands to know how much of this has to do with Liam wanting to get back with Steffy.
The Bold And The Beautiful Spoilers – Steffy Forrester Is Furious With John Finnegan
Steffy tells Finn he should have never turned his back on Kelly. Finn says he was stupid. Finn says Kelly is fine and that is because of Sheila.
Steffy cannot believe that Finn wants her to cut Sheila some slack. Finn says he is sorry and Sheila is a hero.
Steffy says Sheila was ready to let them die. All Finn cares about is that Sheila saved Kelly's life, she prevented what could have happened.
Finn tells Steffy whether she likes it or not, Kelly is going to grow up because of his mom. Steffy is furious that Finn refers to Sheila as his mom.
Sheila demands to know why Sheila was at the beach. Finn has no idea. Steffy accuses her of stalking him and Kelly and Finn disagrees.
Finn says Sheila saved him and Kelly today. Steffy reminds Finn what Sheila did to them. Finn says Sheila gave him a chance to do better.
Finn doesn't know how he could go on if Kelly had died on his watch. Kelly is ok and that is all that matters. Steffy asks if Finn thanked Sheila for saving Kelly.
Steffy asked if Finn embraced Sheila and he says no. Steffy asks him if he embraced Sheila at the courthouse. Steffy says Finn saw Sheila after she was released.
Finn says Sheila embraced Finn and he embraced her back. Steffy screams that they almost lost Kelly today.
Steffy says they agreed to keep Sheila out of their lives for good. Steffy asks Finn how he could do this. How is Steffy ever supposed to trust Finn again?
Be sure to catch up on everything happening with B&B right now. Come back here often for The Bold And The Beautiful spoilers, news, and updates.
You Might Also Like
Bold & The Beautiful Next 2 Weeks Spoilers
3 Must-See Moments Week Of July 31
Subscribe To Celebrating The Soaps On Google News