Bold and Beautiful Spoilers: Explosive Confrontation Rocks The Forrester Family, Will Taylor Take The Fall For Reese's Baby Scam?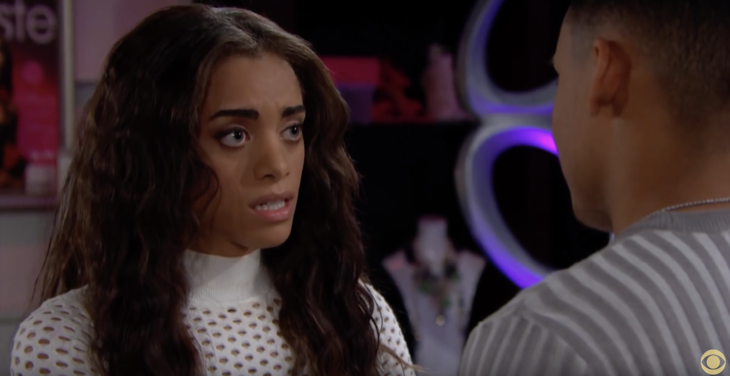 The Bold and the Beautiful (B&B) spoilers tease that a massive confrontation will rock the Forrester family. Reese Buckingham (Wayne Brady) has high tailed it out of town and left Taylor Haynes (Hunter Tylo) and Flo (Katrina Bowden) to clean up his mess. Does someone know something about Hope Logan's (Annika Noelle) stolen baby? Here's everything we know about this upcoming B&B storyline.
B&B Spoilers Zoe Blasts Flo
Zoe (Kiara Barnes) has a hunch that something shady is going on with her dad. She also believes it centers around Steffy Forrester's (Jacqueline MacInnes Wood) new baby. When she goes to her dad's place to get answers, she finds Flo who tells her she father left town.
Flo informs her that she doesn't know anything and her dad is letting her stay with him. Apparently, Flo's story is she is going through a tough time and Reese is letting her crash there. Zoe doesn't buy it and she makes sure Flo knows it.
He stole from one woman and conned another, but the biggest threat to him is his own daughter. It's all coming up this week on #BoldandBeautiful! pic.twitter.com/Xb3ry5IWn6

— Bold & The Beautiful (@BandB_CBS) February 3, 2019
Bold and Beautiful Spoilers Will Taylor Take The Fall?
Brooke Logan (Katherine Kelly Lang) and Ridge Forrester (Thorsten Kaye) decide to confront Taylor and Steffy about the adoption. They drill the mother and daughter on how she knew there was a baby needing a home. Taylor isn't sure how to answer their questions.
Ridge and Brooke will explain they think something is shady about this quickie adoption and they want to look into it. Can Taylor and Steffy convince them to leave it alone? Or, will they find out that the baby is really Beth Spencer?
As we move into February sweeps, more clue will come out that Phoebe is really Hope's baby. Don't forget to come back for more Bold and the Beautiful (B&B) spoilers, news, and casting updates!
Want up-to-the-minute soaps news, spoilers, and gossip on your social feeds? Just hit 'Like' on our Facebook page and 'Follow' on our Twitter account.