General Hospital Spoilers: Will The Takedown of Ryan Chamberlain Bring Redemption For Ava Jerome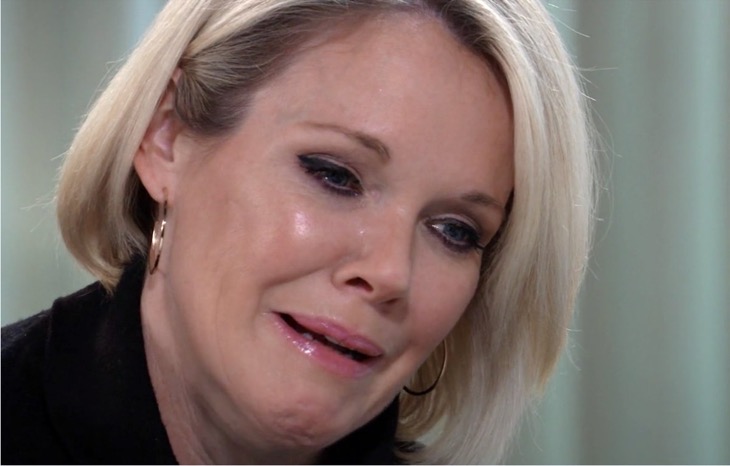 General Hospital spoilers tease that possibly there's been a change in Ava Jerome (Maura West) for the better; she reached out in kindness to Laura Webber (Genie Francis) in GH, offering her a cup of coffee and good thoughts for Lulu Falconeri (Emme Rylan). That's a step in the right direction for Ava, although she is still struggling with her revenge impulses for the killer of her daughter Kiki Jerome (Hayley Erin).
At least when she's talking about the takedown, she's hoping the police will take him down and not talking about doing it herself, although when she finds out who did it that is still entirely possible!
It seems like the path that Ava is starting down may be one of less revenge and vigilantism and more of letting the police catch the killer, and for justice to be served. Ava apparently has not checked out Ryan Chamberlain's (Jon Lindstrom) shoes that she took home from the hospital, and by now he has probably cleaned Lulu's blood off the bottoms or disposed of them.
#gh Ava Stops Jealous Ryan from Murdering Griffin, Becomes The Target Herself https://t.co/L0ydzvZiO5

— Celeb Dirty Laundry (@celebdirtylaund) January 31, 2019
Kiki's death seems to have instilled in Ava something Ryan probably never will have; compassion! Ava is angry at the killer, of course; and she will have no compassion for him, but she might catch herself and remember Kiki would want her to do the right thing. Besides, if she were to take matters into her own hands, and be put in prison, she wouldn't be able to see Avery (Ava and Grace Scarola) at all!
Even if Ava doesn't try to seek out and take down the serial killer herself, she certainly wants to be in on the police progress on the case, which as a close family member of one of the victims she should be able to do.
Since she reached out with kindness to Laura, as the mayor she will be in on everything with the case and may return the kindness by keeping Ava in the inside loop.
Stay tuned to GH and keep checking General Hospital spoilers frequently to see what happens down the road!
Read more news, spoilers, and gossip on our Celebrating The Soaps General Hospital home