Bold and the Beautiful Spoilers: Flo Cracks Under Pressure and Confesses To Zoe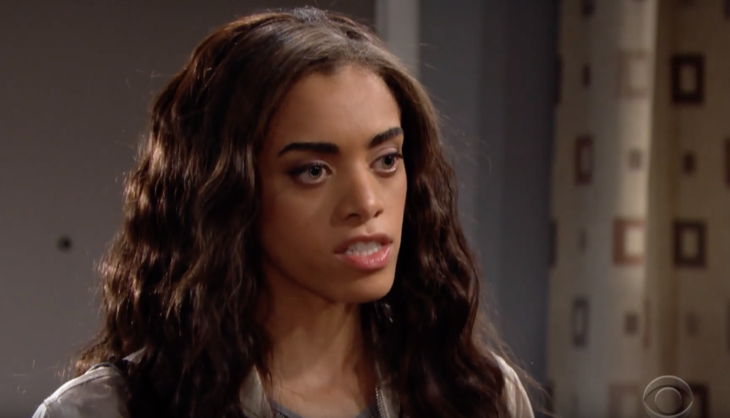 The Bold and the Beautiful (B&B) spoilers for the week of February 11 tease that Flo (Katrina Bowden) will come clean to Zoe (Kiara Barnes) about the baby scheme. Zoe confronted Flo last week on what scheme her dad has cooked up with her, but she refused to say. When Zoe returns to have another chat with her, Flo breaks down and tells her the truth. Here's everything we know about this B&B storyline.
Zoe Pressures Flo To Tell The Truth
Zoe questions Flo and she lets her know that she knows she is up to something with Reese Buckingham (Wayne Brady). She will let her know that she knows that her dad is always up to some type of shenanigans, so she should just fess up before he drags her down with him.
Flo tries to evade the issue and pacify Zoe, but it doesn't work. Flo's excuses escalate the situation until Zoe finally tells her to tell her what's going on or she will call someone to get the truth out of her.
#BoldandBeautiful Hot Promo Week of February 4 – Zoe Learns Steffy Baby Shocker – Flo Backed Into a Corner https://t.co/hVH96D3FZz

— Celeb Dirty Laundry (@celebdirtylaund) February 2, 2019
Flo Admits Part Of the Truth
Finally, Flo admits that she is not the baby's mother. Of course, Flo doesn't give the whole story. Flo really cares for Reese and she doesn't want to do anything that would jeopardize any romantic future they could have together. However, the truth is, Reese never felt that way about her.
B&B spoilers state that Flo understands that Reese used her, and he manipulated her to do some of the dirty work. She feels like getting involved with the baby switch-a-roo was a really bad decision. She hopes that Zoe can piece it all together and reunite Hope Logan (Annika Noelle) with her baby.
What will Zoe do with the information that Flo is not really Phoebe's birth mother? Don't forget to come back later for more The Bold and the Beautiful (B&B) spoilers, news, and casting updates!
Want up-to-the-minute soaps news, spoilers, and gossip on your social feeds? Just hit 'Like' on our Facebook page and 'Follow' on our Twitter account.