The Bold and The Beautiful Spoilers Wednesday August 23: Shirley Encourages Sally – Bill Tries More Sabotage, Brooke Unaware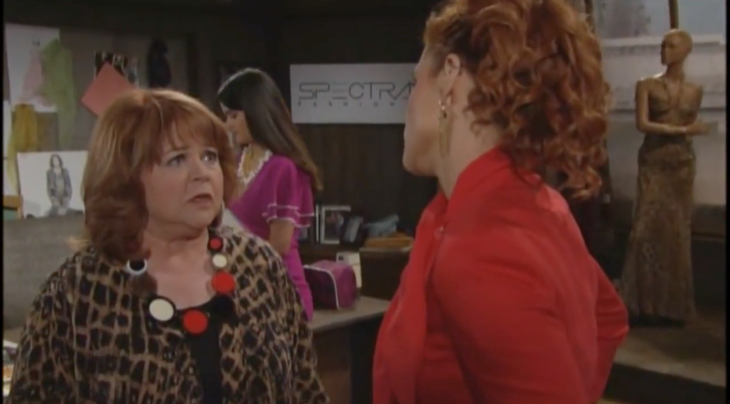 "The Bold and The Beautiful" spoilers for Wednesday, August 23rd, will be intriguing and you will not want to miss a second. Bill Spencer (Don Diamont) is still moving forward with his plans to destroy Spectra Fashions. Brooke Logan Spencer (Katherine Kelly Lang), Bill's wife, takes pride in watching Bill take charge. She smiles approvingly as he is on the phone demanding to see fashion reporter, Jarrett Maxwell (Andrew Collins) before Jarrett heads off to the Spectra Fashions exclusive Couture preview. No doubt he has some last minute attempt in spoiling the show for Sally Spectra (Courtney Hope). Just how proud will Brooke be when she finds out what Bill has really been up to, and the lengths he has gone to destroy Sally along with Spectra Fashions.
"The Bold and The Beautiful" sources reveal that although Thomas Forrester (Peirson Fode') is away in New York, due to Bill's lies and manipulation, and is not there to give Sally support personally or professionally, her grandmother Shirley Spectra (Patrika Darbo). Shirley undoubtedly so proud of Sally gives her a much-needed boost. "This is the best work you have ever done," Shirley continues "You are about to be a fashion force in this town." This statement is probably is true, however, Bill Spencer is scheming behind the scenes to ensure this show goes up in smoke. Do you think Jarrett will give an honest review of Sally's show, or will Bill get his way having Jarrett trashing her work?
"The Bold and The Beautiful" spoilers indicate that Bill might be starting to stack the deck against him, in his efforts to destroy Spectra. As Bill gazes loving at his beautiful 'Sky' (model of his skyscraper) vowing to build her right where he said he would, as soon as he, wipes Spectra off the face of the earth. However, Bill will need to CJ Garrison (Mick Cain) back on board, as he is recommitted to helping to bring back the company his mother created.Then there is Bill's son Liam Spencer (Scott Clifton), who is on the fence with coming clean on what his father is doing. Not to mention what Brooke will have to say when she learns the truth about Bill's current actions.
Who do you think Bill will come out on top? How far do you think he is willing to go? Do you think Bill's precious 'Sky' will cost him everything and everyone? Leave us a comment and share your thoughts.
Catch "The Bold and The Beautiful" weekdays on CBS. Be sure to check back here at Celebrating the Soaps, your "B&B" source for news, updates, spoilers and so much more!