The Bold And The Beautiful Recap Thursday, September 28: Ridge Worries, Finn Needs To Step Up, Sheila Wants Deacon
The Bold And The Beautiful spoilers for Thursday, September 28, 2023, indicate that John "Finn" Finnegan (Tanner Novlan) thanks Taylor Hayes (Krista Allen) for helping Steffy Forrester (Jacqueline MacInnes Wood) get settled.
Taylor tells Finn he is very close to losing Steffy and he needs to do whatever it takes to get rid of Sheila Carter (Kimberlin Brown).
The Bold And The Beautiful Recap Highlights
Deacon Sharpe (Sean Kanan) wants Sheila to stay a little longer. Ridge Forrester (Thorsten Kaye) tells Brooke Logan (Katherine Kelly Lang) how worried he is about Steffy.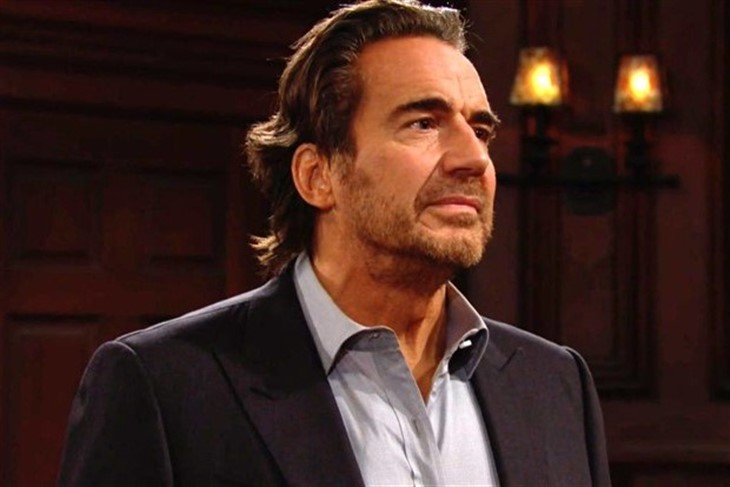 B&B Recap – Ridge Forrester Is Worried About Steffy Forrester
Ridge wants to respect Finn because of how he treats Steffy. Brooke doesn't think it is fair to blame Finn. Finn didn't ask for Sheila to be his birth mother.
Ridge doesn't see how Finn has done anything. Ridge says it is up to Finn to protect his wife. Brooke tells Ridge they need to step it up a notch and do something they haven't done in a while.
Brooke wants to go home and get in the tub so she can make all of Ridge's worries go away. Taylor interrupts Brooke and Ridge's conversation.
Ridge didn't know that Taylor was coming back. Taylor wanted to check on Thomas and a few other things. Taylor says the school is good and Finn not being there is affecting the kids.
Taylor hopes her being there is helping. Steffy is mad that Sheila is why she had to leave. Ridge says as long as Finn is here, Sheila isn't going anywhere.
Taylor tells Ridge and Brooke that Finn has to make sure that Finn is out of their lives. Finn has to convince Sheila that he doesn't love her.
The Bold And The Beautiful – Taylor Hayes Wants John Finnegan To Get Rid Of Sheila Carter Now
The Bold And The Beautiful spoilers Taylor understands how Finn feels but no one understands how he can encourage a relationship with Sheila when she tried to kill him and Steffy.
Finn doesn't know how he had any feelings for Sheila. Finn says he made a mistake and should have drawn a line at the very beginning.
Taylor doesn't care what Finn has to do, he has to get Sheila out of his life. Taylor gets ready to leave to go see Ridge and fill him in.
Taylor promises to let Steffy know how hard he is trying to get Sheila out of his life. Taylor says Sheila will use whatever she can to manipulate Finn.
Finn has to be strong because Sheila gets power from manipulating people's minds. Taylor tells Finn he has to make sure that Sheila knows she is not welcome in his life. Finn needs to make Sheila go away for good.
The Bold and Beautiful Recap: Sheila Carter Wants To Have It All
Deacon asks Sheila to stay with him, he doesn't want to be alone. Sheila's head is spinning after everything that has happened.
READ THIS: Find out what happens next on The Bold and The Beautiful.
Sheila says it isn't every day that a girl realizes she has a guardian angel. Deacon says he bent the judge's ear is all. Deacon felt so alone. Deacon says he and Sheila have had to work twice as hard to move ahead.
Deacon says they can write their own story here and now. Deacon arranges a surprise for himself and Sheila. Deacon and Sheila go to the restaurant, he hopes she will have dinner with him tonight.
Sheila asks why Deacon did this. Sheila says they agreed not to see each other anymore. Deacon says this is about her.
Deacon gets Sheila, he says that goes both ways. Sheila can be herself with Deacon and he sees the person she wants to be.
Deacon has Sheila believing she can be the person she wants to be. Deacon says everyone deserves a chance to try to change. Sheila wants a life with Finn and her grandson, she wants a life with Deacon too.
Be sure to catch up on everything happening with B&B right now. Come back here often for The Bold And The Beautiful spoilers, news, and updates.