The Bold And The Beautiful Spoilers: Deacon And Sheila Announce Marriage After Elopement
The Bold And The Beautiful spoilers reveal that Deacon Sharpe (Sean Kanan) is determined to marry Sheila Carter (Kimberlin Brown) even though they are trying to keep things under wraps right now. Deacon is afraid that he will lose Hope Logan (Annika Noelle) for good if he tells her about his engagement. However, that doesn't mean that Deacon and Sheila will wait for her approval.
The Bold And The Beautiful Spoilers – Deacon Sharpe May Decide To Make A Drastic Move
The Bold and The Beautiful spoilers reveal that Sheila is not going to be content to stay engaged forever without telling anyone or getting married. Sheila may feel like she is simply putting her life on hold for nothing.
Sheila could even threaten to break up with Deacon if he doesn't act on his proposal, After all, Sheila may need more than words to prove he is serious.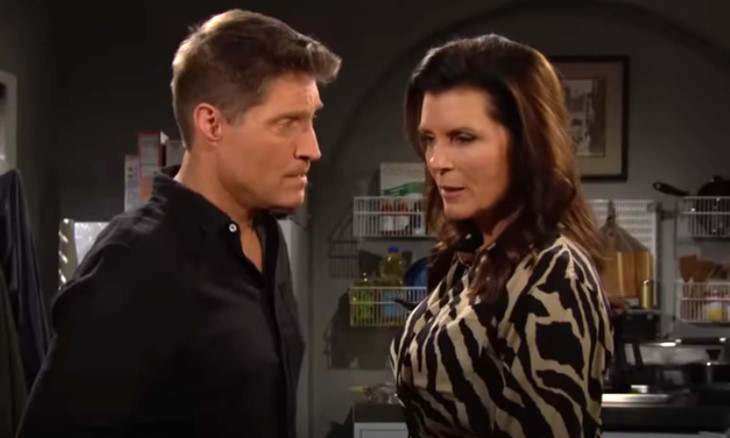 Deacon and Sheila could hop on a plane to Vegas and get married at any time. Of course, Deacon may ask Sheila to keep quiet about their marriage for a little bit.
However, he would have at least proven that he was serious. Sheila and Deacon could live together like they have been and just not reveal their marriage right away.
B&B Spoilers – Deacon Shape And Sheila Carter Could Announce Their Marriage
Deacon and Sheila may come back and be completely thrilled to announce their marriage to everyone.
Of course, they could invite everyone to the restaurant and have a reception for themselves revealing their impromptu wedding and telling everything that they simply have to accept their marriage and go on, including their children.
What can anyone do if they are already legally married other than get used to the fact and move on? Deacon and Sheila are both adults, if they do anything to make them made then so be it.
Deacon and Sheila have a right to be happy if they are so inclined and it is no one else's business no matter who they are.
The Bold And The Beautiful Spoilers – Hope Logan May Have A Chance Of Heart
Now that Hope has admitted that she loves Thomas Forrester (Matthew Atkinson) after a huge fight with Liam Spencer (Scott Clifton).
Now that Hope can admit her feelings can she possibly change her mind about Sheila? Thomas has been completely obsessed with her more than once, and tell, Hope can admit he has changed.
Hope may agree to sit down and talk to Sheila about everything that has happened over the time her father and Sheila have been together Is it going to take an elopement for people to see that Sheila has changed?
Will Sheila ever be accepted by the people of Los Angeles? Will Deaine and Sheila ever be accepted as a couple?
Be sure to catch up on everything happening with B&B right now. Come back here often for The Bold And The Beautiful spoilers, news, and updates.