The Bold And The Beautiful Spoilers: Desperate Bill Puts A Ring On It
The Bold and The Beautiful spoilers and updates tease that a desperate Bill Spencer (Don Diamont) decides to put a ring on it to get Sheila Carter (Kimberlin Brown) to confess. The question is, will the ring be significant of love and trust, or a ring to lead Sheila by the nose where he wants her?
The Bold And The Beautiful Spoilers – Try Harder
Ridge Forrester (Thorsten Kaye) told Bill as they sat in the FBI surveillance center with the FBI analyst (Brian Yang) that he'd have to try harder to get Sheila to confess. They're trying to get a confession on a crime or crimes that will put her away for good, and he mentions her pushing Dr. Jay Garvin (Brett Stimely) off a balcony.
He also mentions when she killed Lance (Adam Huss) with bees, due to an allergic reaction she knew he had to bees-they know she did it but they need a confession!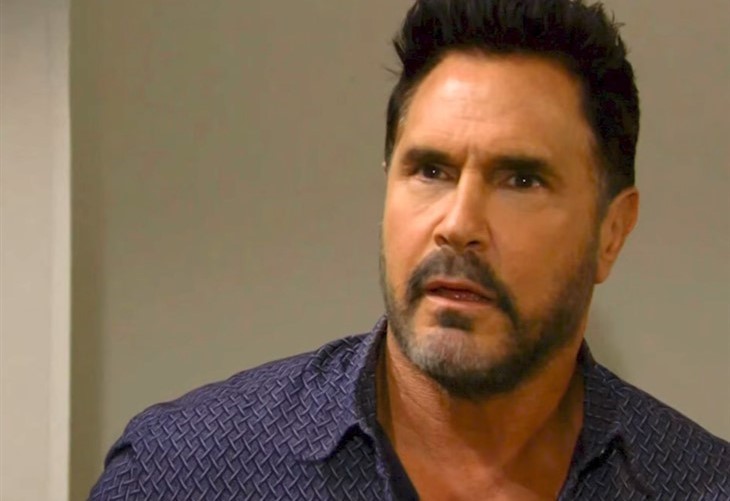 Everyone knows that Sheila has killed before and probably many people, some across state lines when she lived in Wisconsin and Michigan. She killed Dr. Garvin, her psychiatrist because she confessed to him she poisoned her father, but the files were shredded by the time they looked for evidence in his office.
B & B Spoilers – Bill Spencer Buys A Rock
Bill buys a rock almost too big for Sheila's finger and he's desperate enough to bring her to justice that he proposes marriage. Bill knows deep inside that he's taking a risk bigger than he already has, alienating his family over Sheila, and perhaps having to go through with the marriage. But he has to get her to trust him enough to confess those crimes that he knows weigh her heart down and make her feel guilty.
She may be a sociopath and a psychopath, but she does have a conscience and he can tell-no one has ever seen that in her before that he knows of. Treating her like a queen and accepting her like she is should make her feel safe and loved-even though it galls him to have to pretend and convince her.
The Bold And The Beautiful Spoilers – A Ring On Her Finger, A Ring Through Her Nose?
Bill is hoping this ring on her finger will be a figurative ring in her nose in which he can put a rope or a chain. He needs to lead her into the trap he, Ridge and the FBI are laying, and it needs to be believable. Even if he has to invite the FBI and undercover police to a wedding, it's something that has to be done-she must be put away for good.
If it's the last thing he does he's going to get those confessions out of her and it will be at home with cameras and recorders running. They're hoping for multiple confessions, but one capital one murder would do it.
Be sure to catch up on everything happening with B & B right now. Come back here often for The Bold and The Beautiful spoilers, news, and updates.