The Bold And The Beautiful Spoilers: Enemies To Frenemies To Friends-Ridge Saves Bill's Life From Sheila's Wrath?
The Bold and The Beautiful spoilers and updates tease that enemies will turn to frenemies and might turn into friends. Ridge Forrester (Thorsten Kaye) could wind up being Bill Spencer's (Don Diamont) hero when he intervenes to save his life from an off-the-rails Sheila Carter (Kimberlin Brown)!
The Bold And The Beautiful Spoilers – Men Doing Catty
In a recent episode, Bill approached Ridge in the FBI surveillance center and the two of them started taking digs at each other, but something was different. It was almost as if the two of them were comically playing out a couple of women being catty to each other, which women, unfortunately, can be experts at. You know, the backhanded compliments, the subtle digs, the fake smiles all the while secretly snickering inside, but women don't always get catty with enemies-just rivals in the "frenemy" zone.
Ridge took a couple of humorous digs at Bill, referring to the camera and recording surveillance in his house meant to capture Sheila confessing to crimes. Mention was made of Bill's bedroom, and he was assured by Ridge no cameras were there, as he couldn't unsee "that" but complimented his skin tight pajamas!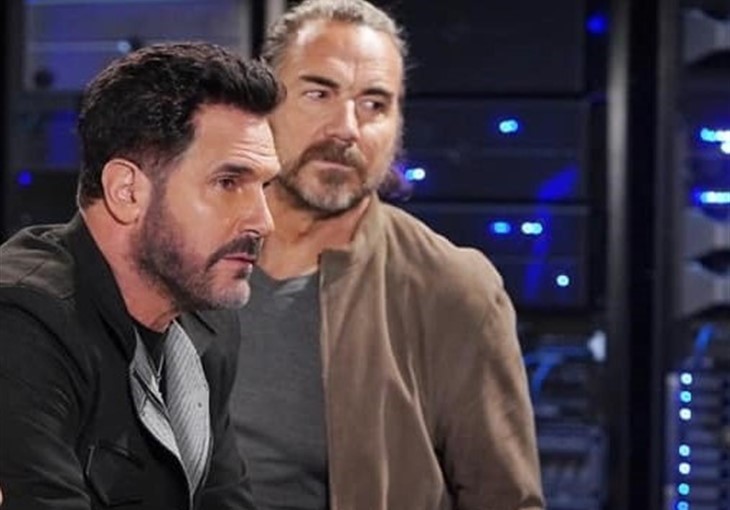 B & B Spoilers – Bill Spencer And Sheila Carter Take A Dark Path
Ridge was trying to get Bill to try harder to get Sheila to confess something the FBI could actually use as evidence, warrants secured for that recording equipment in Bill's house. They will have to use the warrants for putting the equipment in the house since Sheila doesn't know she's being recorded, which is obviously why Bill moved her in. That way the case can't be thrown out of court because of lack of warrants and would be written in such a way that people don't have to know. Crimes were mentioned, like when she pushed Dr. Jay Garvin (Brent Stimley) off a balcony to his death, and her gruesome murder of an actor named Lance (Adam Huss) by bees. However, she may figure things out as she and Bill will go down a dark path after he proposes marriage to her and puts a gigantic rock on her finger.
The Bold And The Beautiful Spoilers – Ridge Forrester Arrives In The Nick Of Time
Ridge arrives in the nick of time, according to early spoilers for the week of March 27, which could mean he saves Bill's life from Sheila's wrath. Sheila would be majorly set off and upset if she realizes Bill was setting her up, and that's when she always goes off the rails. Sheila's violent crimes are usually because she's acting out and something has set her off-not like planning Brooke Logan's (Katherine Kelly Lang) falling off the wagon with her champagne label swapping.
In other words, usually when Sheila has actually committed murder it's not been premeditated-except perhaps when she poisoned her father in Michigan. It's a possibility Sheila could pull a gun on Bill in the house, or Ridge could see the signs of her going off the rails violently and arrive with the FBI.
Be sure to catch up on everything happening with B & B right now. Come back here often for The Bold and The Beautiful spoilers, news, and updates.