General Hospital Spoilers: Nina Is Climbing The Walls As Sonny Ices Her Out And Lets Carly In
General Hospital spoilers hint Nina Reeves (Cynthia Watros) isn't going to handle it well when her relationship with Sonny Corinthos (Maurice Benard) starts to peter out in the weeks ahead. Nina is used to having unlimited access to her mob man, and now that his lifestyle is impeding things, she's going to struggle with how to fill her free time.
Normally, she would head out to dinner with Sonny or let him prepare her a meal at his place. Now, his place is crawling with bodyguards, and her skin is crawling over finding Carly Spencer (Laura Wright) there with them.
General Hospital Spoilers — Nina Reeves Has Been Dating Someone Else
Nina is struggling to wrap her head around just how much her relationship with Sonny is changing — and how quickly. When she first fell in love with him, he was "Mike." Nina was trying to be as realistic as possible when they came back to Port Charles and still found their way back to one another.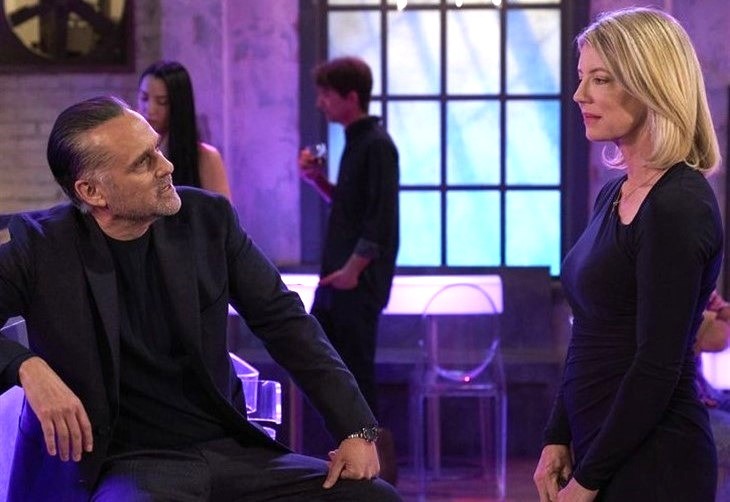 She didn't want to be wrapped up in the day to day dealings of his criminal enterprise; she'd heard enough stories. Still, she knew she wasn't getting back together with Mike either. This was Sonny, and that's still the man she loves. She might have been lying to herself about whether she really hack being in Carly's shoes, though.
GH Spoilers – Leak Phyllis Caulfield Might Help to Open Her Eyes
When Phyllis showed up at Nina's door, it was just the pick-me-up that she needed. That being said, Phyllis was quick to point out that Nina may not be up for what it really takes to be the other half to someone like Sonny, and Nina was quick to assume Phyllis was implying Carly has what it takes.
Maybe she does, or she's just used to it. Either way, Nina won't have an easy time refraining from comparing herself to Carly — especially as she sees Sonny sharing his feelings and the inner workings of his business with her, absent Nina.
General Hospital Spoilers — Carly Spencer Will Bear The Brunt Of Nina Reeves's Pain
Call it misdirected but Nina is going to throw all of her anger and angst about her relationship with Sonny right in Carly's direction. She's tired of playing second fiddle in Sonny's life, and although this time around she's on the back burner as a matter of safety, it still feels like Carly has more up close and personal access to her beau than she does.
Carly shares children with Sonny and will always have a relationship with him that Nina can never have. Unless, of course, Carly goes away. Will the withering away of her relationship with Sonny be the straw that breaks the camel's back and sends her over the edge to report Carly to the SEC? Stay tuned for more GH news and spoilers to find out.