The Bold And The Beautiful Spoilers: Finn Grows Suspicious Of Steffy And Liam
The Bold and the Beautiful spoilers indicate new love triangles on the CBS soap very soon. Steffy Forrester (Jacqueline MacInnes Wood) and her husband Finn (Tanner Novlan) have been living in bliss together since he returned from the dead. But, no couple stays happy forever on daytime TV. According to B&B spoilers there's trouble ahead for Steffy and Finn, thanks to Liam Spencer (Scott Clifton).
The Bold And The Beautiful Spoilers – Trouble In Paradise For John "Finn" Finnegan And Steffy Forrester
When your husband magically returns from the dead, you tend to let bygones by bygones. But, at the end of the day, Steffy and Finn still have some unresolved issues in their marriage. Like, for example waffling Liam Spencer. Finn is very familiar with Liam's history of bouncing back and forth between Steffy and Hope Logan (Annika Noelle).
The Bold and the Beautiful spoilers show that Liam is devastated when he finally puts two and two together and realizes his innocent wife is falling in love with Thomas Forrester (Matthew Atkinson).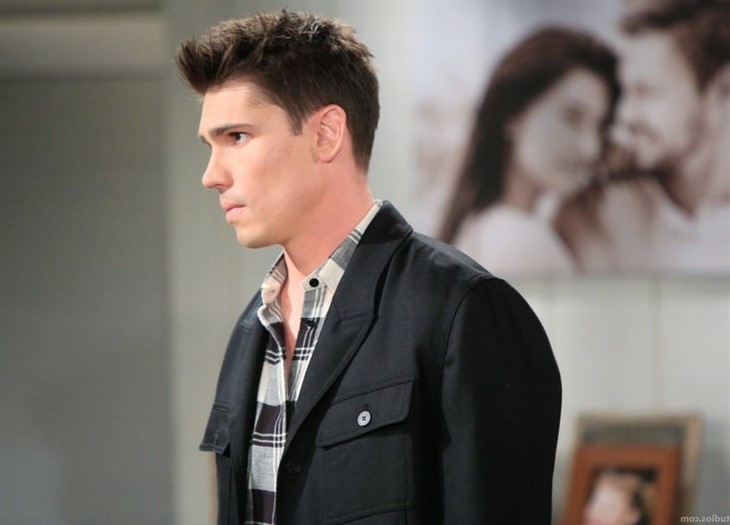 When Liam learns that Hope is the one who has been putting the moves on Thomas, he is crushed, and heads straight to Steffy Forrester's house to cry on her shoulder. But, her husband is not impressed.
B&B Spoilers – John "Finn" Finnegan Suspicious Of Steffy Forrester And Liam Spencer
Finn will start to grow suspicious of Liam snooping around his home looking for Steffy all the time. After walking in on a few emotional moments, he is convinced that Liam is trying to steal his wife. The sad thing is, Finn might not be wrong. Whenever Liam gets slighted by Hope, he ends up getting back together with Steffy.
This is the first time in a long time that Steffy has been off the market when Liam and Hope split, so it will certainly be interesting to see how she handles Liam and any moves he tries to make on her.
Does Steffy Forrester still have secret feelings for Liam that are about to come to the surface? Let us know what you think in the comments below and keep checking back here for more The Bold and the Beautiful spoilers, news, and updates.