The Bold And The Beautiful Spoilers: Hope Pushes Liam Into Steffy's Arms
The Bold And The Beautiful spoilers suggest that Hope Spencer (Annika Noelle) is about to push Liam Spencer (Scott Clifton) into Steffy Forrester's (Jacqueline MacInnes Wood) arms. After all, John "Finn" Finnegan (Tanner Novlan) has been working late a lot. Will Steffy and Liam find comfort in each other's arms?
The Bold And The Beautiful Spoilers – Hope Spencer Has Feelings For Thomas Forrester
The Bold and The Beautiful spoilers reveal that Hope may be married to Liam but she certainly has eyes for Thomas Forrester (Matthew Atkinson).
Hope has had Liam blaming Thomas for everything going on between her and Thomas. However, Thomas is not the problem this time. Instead, Hope's feelings for Thomas are a huge issue.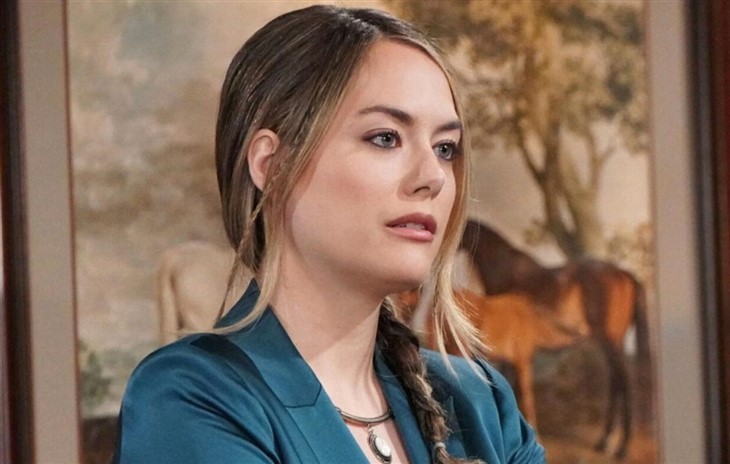 Hope has been making googly eyes at Thomas for weeks but Steffy and Brooke Logan (Katherine Kelly Lang) have been the only ones to see that Hope is the issue.
Brooke may not believe that Thomas is completely innocent, but she does know that Hope has feelings for Thomas because she has mentioned her feeling to Brooke.
B&B Spoilers – Liam Spencer Is Spending A Lot Of Time With Steffy Forrester
Liam and Steffy have ended up spending a great deal of time together lately. Liam and Steffy's daughter has wanted them to be together as a family as well.
The more time Liam and Steffy spend together, the more chances there are of these two cheating. After all, it isn't like Liam and Steffy don't have a history of cheating in the past.
Steffy and Liam slept together around the time Steffy got pregnant with her son. As a matter of fact, Steffy had to have a paternity test to see who her baby's father was again.
Steffy and Liam are close and have been for years. Could the history between Liam and Steffy lead to yet another fling between these exes now that Hope has feelings for another man?
The Bold And The Beautiful Spoilers – Hope Spencer Is Pushing Liam Spencer Away
Hope is working with Thomas knowing that Liam is against it. Hope has also admitted to having feelings for Thomas. Hope has been trying to overcompensate with Liam because of her guilt.
Unfortunately, Liam feels very concerned by Hope's actions. Liam sense that something is up with Hope and he needs to know the truth.
Steffy could have stayed quiet about Hope's feelings for Thomas but instead, she chose to blurt it out to Liam. Steffy promised to stay quiet and not rock the boat.
However, the very first chance Steffy got, she ratted out Hope. Is Steffy trying to break up Hope and Liam? Will Liam and Steffy end up cheating because of this situation?
Be sure to catch up on everything happening with B&B right now. Come back here often for The Bold And The Beautiful spoilers, news, and updates.