The Bold And The Beautiful Spoilers Monday, August 7: Li's Rejection, Finn's Reminder, 'Steam' Stand United
The Bold and the Beautiful spoilers for Monday, August 7 reveal that John "Finn" Finnegan (Tanner Novlan) turns to Li Finnegan (Naomi Matsuda). However, Li reminds Finn that there are consequences for his actions.
Meanwhile, Liam Spencer (Scott Clifton) stands by Steffy Forrester Finnegan (Jacqueline MacInnes Wood). Keep reading to find out what is coming up in the CBS soap opera.
The Bold And The Beautiful Spoilers – Steffy Forrester Finnegan's Separation
B&B spoilers for Monday, August 7 reveal that Steffy left Finn and moved into Eric Forrester's (John McCook) house. Liam went to see Steffy during a recent episode, in which Steffy told him about Kelly Spencer (Sophia Paras McKinlay) nearly drowning.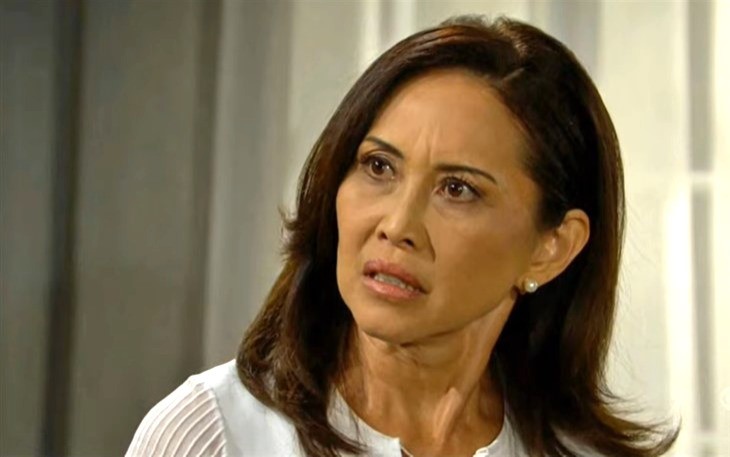 At that time, Steffy also informed Liam that Sheila Carter (Kimberlin Brown) saved Kelly's life.
Despite Finn's pleas, Steffy took the children and left Finn. Now, Liam and Steffy will stand united.
B&B Spoilers – John Finnegan's Agony
On Monday, August 7, Finn will still be reeling from how one hug from his birth mother could lead to him losing the ones he loves the most.
Finn went to the only person he could… his adoptive mother, Li. Finn assumed that he would get love and support from Li.
The Bold And The Beautiful SpoilersLi Finnegan's Rejection
The Bold and the Beautiful spoilers for Monday, August 7 reveal that Li will remind Finn that his actions have consequences. Now, Finn understands this, according to actor Tanner Novlan's interview with Soap Opera Digest magazine. However, Novlan explained that Finn knows his feelings about Sheila are wrong.
At the same time, Finn wants to process his complicated emotions with someone he can trust, someone who will support him and let him figure things out.
So, Li's statement might feel like a rejection to Finn when she is actually teaching him a valuable lesson.
B&B Spoilers – Monday, August 7
Fans might also see Finn's agony turn into rage. Sometime during the week of August 7, Finn and Liam face off. Liam will accuse Finn of putting Steffy and the children in danger.
However, Finn will probably fire back that Liam is just trying to break up his marriage. Perhaps the truth is somewhere in the middle.

Which storyline are you looking forward to seeing the most on Monday, August 7? What are your predictions for Liam, Steffy, Finn, Li and Sheila?
What does the future hold for Ridge Forrester (Thorsten Kaye), Brooke Logan (Katherine Kelly Lang), Hope Logan (Annika Noelle) and the rest of the characters?
Share your thoughts in the comment section below. Remember to keep watching the soap on CBS or Paramount+ to find out what happens next.
Be sure to catch up on everything happening with B&B right now. Come back often for The Bold and the Beautiful spoilers, news, and updates.