The Bold And The Beautiful Spoilers: Liam's Ultimatum To Steffy, Leave Finn Or Else
The Bold And The Beautiful spoilers suggest that Liam Spencer (Scott Clifton) could be about to play hardball with Steffy Forrester (Jacqueline MacInnes Wood) after Kelly Spencer's (Sophia Paras McKinlay) beach accident. Liam doesn't want Sheila Carter (Kimberlin Brown) near his daughter. Will Liam for Steffy to choose between Finn and Kelly?
The Bold And The Beautiful Spoilers – Sheila Carter Saves Kelly Spencer's LIfe
The Bold and The Beautiful spoilers indicate that Finn and Kelly were playing on the beach and having a great time.
However, when Finn gets a call from the hospital, he told Kelly to stay with her toys and answered the phone. Kelly wanted more water to play around their sand castles and slipped away while Finn wasn't looking to go get more.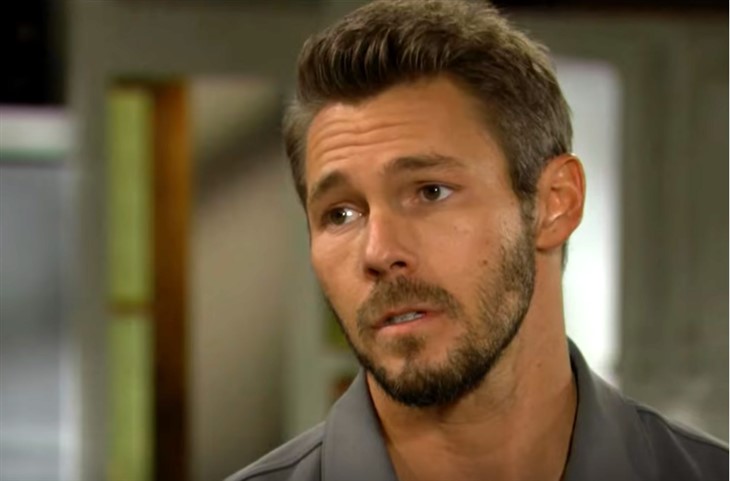 Finn had just finished telling Kelly how dangerous it was to go near the water alone but she disobeyed and went anyway. Unbeknownst to Finn, Sheila had been sitting in a beach tent nearby watching him and Kelly playing.
Sheila saw Kelly head to the water and waited for Finn to respond. When Finn didn't see Kelly, Sheila rushed in to help just as Kelly scream as she was pulled underwater.
B&B Spoilers – Liam Spencer Will Be Furious
If Liam learns that Sheila was anywhere near Kelly, she will get the blame for what happened to his daughter. Liam hates Sheila and doesn't want her anywhere around his family.
Liam still considers Steffy to be a part of that family as well. Liam is already questioning Finn's judgment about Sheila and this is going to look very suspicious, especially if Liam happens upon the scene.
Of course, Liam will blame Finn for turning his back on Kelly for even a second while on the beach. Will it make Liam mad enough to sue for custody of Kelly?
After all, if Finn is going to be careless enough to not watch Kelly in such a dangerous situation, he doesn't need to be near her. Liam sees Finn as a danger to his daughter and could force Steffy to kick Finn out or lose custody of her child.
The Bold And The Beautiful Spoilers – Liam Spencer Wants Steffy Forrester Back
Everyone knows that Liam wants Steffy back. What better way to get what he wants than to separate Finn and Steffy? If Liam can force Steffy and Finn apart, Steffy may be more open to a reunion.
Liam feels that he messed up before by leaving Steffy and returning to Hope Logan (Annika Noelle). Hope pointed out this fact when she divorced Liam.
Will Liam threaten a custody battle to break up Finn and Steffy? Will a custody battle be enough to end Finn and Steffy for good?
Sheila is a wild card and Liam doesn't want her around his daughter at all. Will Liam use the fact that Sheila saved his daughter to get another chance with Steffy to reunite their family? Will Steffy divorce Finn because of this threat?
Be sure to catch up on everything happening with B&B right now. Come back here often for The Bold And The Beautiful spoilers, news, and updates.