The Bold And The Beautiful Spoilers Monday, March 20 Update: Bill & Ridge's Mission, Sheila's Critical Mistake
The Bold and the Beautiful spoilers for Monday, March 20 reveal that Bill Spencer (Don Diamont) and Ridge Forrester's (Thorsten Kaye) mission will be explained. Plus, Sheila Carter (Kimberlin Brown) will continue panicking, which could cause her to make a critical mistake. Keep reading to find out what to expect in the next episode of the CBS soap opera.
The Bold And The Beautiful – Programming Update
B&B spoilers reveal that there was no episode on Thursday, March 16 due to the network's coverage of the NCAA basketball tournament. CBS has also preempted the soap on Friday, March 17 for the same reason. There will also be no new episodes uploaded online or on Paramount Plus until Monday, March 20.
B&B Spoilers – Alliance Explained
Fans have been baffled by Bill's behavior, including his romantic entanglement with Sheila. Viewers finally got a bombshell and massive cliffhanger when Bill and Ridge's alliance was revealed. Not only are the long-time rivals working together to take down Sheila but the FBI is involved.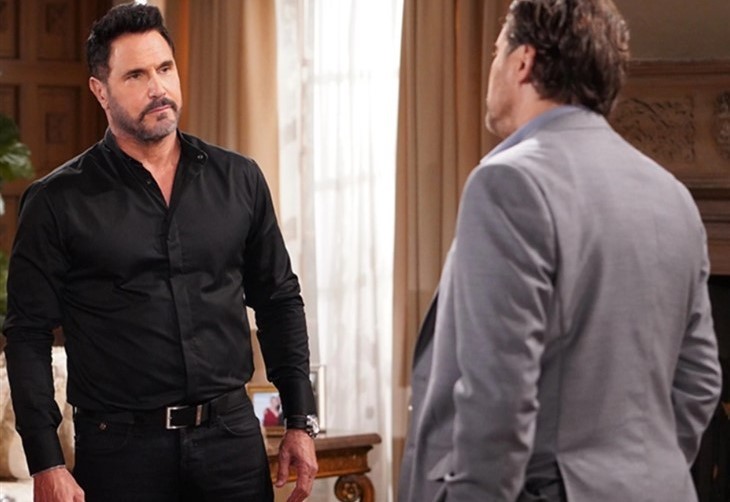 During a recent episode, Bill told Sheila some of the horrible crimes he has committed. Sheila mentioned it to Deacon Sharpe (Sean Kanan). Now, Sheila knows that Bill was trying to get her to open up. What Sheila doesn't understand is whether Bill is trying to trick her or is just looking for a way to connect.
This is exactly what Bill wants right now… for Sheila to be utterly and completely confused. It makes it easier for Sheila to make a mistake.
The Bold And The Beautiful – Sheila Carter's Critical Mistake
The Bold and the Beautiful spoilers for Monday, March 20 reveal that Sheila will continue to panic. Sheila has a feeling that Bill knows about her betrayal with Deacon. As Sheila blabs to Deacon on the phone about it, Bill watches from a monitor in a secret room. So, Sheila's secrets will be unveiled but will it be anything that the FBI can actually use?
B&B Spoilers – Monday, March 20
Fans might also get an update on how Thomas Forrester (Matthew Atkinson) and Hope Logan Spencer's (Annika Noelle) rekindled business partnership. Will Ridge and Bill's team effort with the FBI be successful? How will Sheila's takedown affect Deacon's future?
Which storyline are you looking forward to seeing the most on Monday, March 20? What are your predictions for Bill, Ridge, Sheila, Deacon and the FBI? What does the future hold for Thomas, Hope, Liam Spencer (Scott Clifton), Steffy Forrester Finnegan (Jacqueline MacInnes Wood), Brooke Logan (Katherine Kelly Lang) and the rest of the characters? Share your thoughts and remember to keep watching the CBS soap to find out what happens next.
Be sure to catch up on everything happening with B&B right now. Come back often for The Bold and the Beautiful spoilers, news, and updates.