The Bold And The Beautiful Spoilers: Steffy Blindsided By Attraction To Liam, Regrets Attacking Hope
The Bold And The Beautiful spoilers suggest that with John "Finn" Finnegan (Tanner Novlan) working overtime, Steffy Forrester's (Jacqueline MacInnes Wood) mind could stray. Will Steffy find herself feeling attraction to Liam Spencer (Scott Clifton) after spending so much time with him lately? Will Steffy end up regretting judging Hope Spencer (Annika Noelle) so harshly?
The Bold And The Beautiful Spoilers – Liam Spencer Could End Up Single
The Bold and The Beautiful spoilers reveal that Liam has voiced his thoughts on Hope cheating on him. Liam doesn't feel that he can get past it if Hope gives in to her desire for Thomas Forrester (Matthew Atkinson).
Steffy is about to drop a bomb on Liam that Hope is the one he needs to worry about not Thomas. Thomas has been a perfect gentleman and Hope is flirting with him.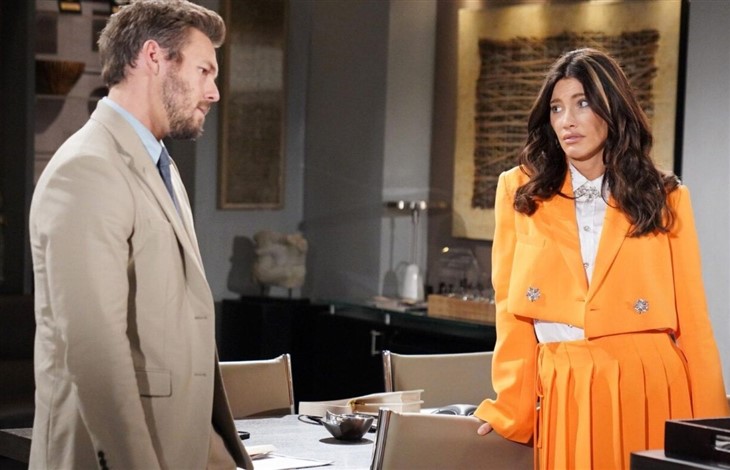 Hope has told Brooke Logan (Katherine Kelly Lang) how she feels about Thomas. Unfortunately, Thomas overheard Hope say that he was crazy and she didn't need to be with him.
Hope tries to backtrack and assure Thomas that she doesn't feel that way. However, Hope may also tell Thomas that she has been feeling drawn to him for weeks.
B&B Spoilers – Steffy Forrester Has Been Liam Spencers Sounding Board
Steffy and Liam have been spending a great deal of time together. Steffy has spent hours trying to reassure Liam about Thomas' progress in therapy and at work.
Liam has been stopping by and interrupting Steffy's alone time with Finn. If Hope crosses the line and sleeps with Thomas, Liam is going to need someone to lean on.
Steffy and Liam spending time together and dealing with his heartbreak could bring up some unexpected feelings of attraction between Steffy and Liam as well.
Will Steffy end up cheating on Finn with Liam once again? Could Steffy end up considering sleeping with Liam even if they don't go all the way?
The Bold And The Beautiful Spoilers – Will Steffy Forrester Realize Hope Spencer's Dilemma?
Once Steffy realizes that her feelings for Liam still lurk under the surface and sympathize with Hope. Steffy has been on Hope's back over her feelings for Thomas ever since she noticed a change in their dynamic. However, is Steffy not the one who cheated on Finn with Liam requiring a paternity test for her son?
Steffy is being very judgemental for someone who has made these same mistakes. Steffy may be protecting her brother but she needs to think about her own actions before she judges others.
Hope cheating on Liam may throw them all into a tailspin. Will Steffy realize that she has been entirely too rough on Hope?
Be sure to catch up on everything happening with B&B right now. Come back here often for The Bold And The Beautiful spoilers, news, and updates.