The Bold And The Beautiful Spoilers: Turnabout's Fair Play-'Bridge' Reunites, 'Taycon' Begins?
The Bold and The Beautiful spoilers and updates tease that turnabout's fair play, and as 'Bridge' reunites, 'Taycon' could begin. Taylor Hayes (Krista Allen) recently encouraged Deacon Sharpe (Sean Kanan) to try again with Brooke Logan (Katherine Kelly Lang) but he'll discover she's gone back to Ridge Forrester (Thorsten Kaye).
The Bold And The Beautiful Spoilers – She Tried
You have to give to Taylor, she gave it a good try to fix up Brooke when she fixed him up with that good-lookin' younger guy at Il Giardino. But Brooke may have uttered a Freudian slip when she told him she'd rather be with someone she was with before and someone familiar-thinking of Ridge! Brooke is struggling to stay true to her and Taylor's pact, but Taylor wanted to oblige.
The first thing that came to her mind, noting Brooke and Deacon's body language around each other, was to point Deacon to Brooke. He'd tried before and Brooke could have him back with one bat of her eyelashes, but she'll always think Ridge her destiny, being in love with romance, not necessarily the man!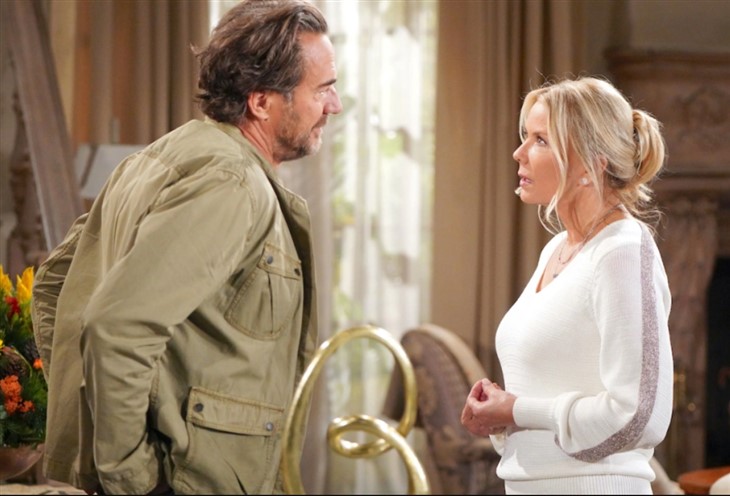 B & B Spoilers – Brooke Logan Is A Romance Addict
Some have judged Brooke, including herself and her daughter Hope Spencer (Annika Noelle) a nymphomaniac who can't control herself with men. But in reality, she's not a sex addict, Brooke's a romance addict, addicted to the idea that only one man, Ridge, is her destiny and she his destiny. The devastating truth will hit home with Taylor the woman she thought was her bestie acted like her rival again by not being honest. Once again, Brooke and Ridge not only are together but are in Italy getting remarried-and Deacon may well be the one who tells her, unless Ridge mans up and tells her. It's possible that Steffy Forrester (Jacqueline Macinnes Wood) might give Mom a heads-up and a warning, along with Thomas Forrester (Matt Atkinson) who will know as well.
The Bold And The Beautiful Spoilers – Who Goes To Italy?
It's possible that this could be a trip for Forrester Creations, considering Steffy, Thomas, and even Carter Walton (Lawrence Saint-Victor) are there, but why Liam Spencer (Scott Clifton)? Well, that could be explained by noting Hope is there along with Thomas and Liam's extreme jealousy, and of course Ridge and Brooke. But leaked videos show Ridge and Brooke getting pretty romantic acting, a marriage proposal expected-so Taylor might commiserate with Deacon.
Brooke could come back with the rest of them to find Taylor's now with Deacon, since she didn't want him back and was sneaky about reconciling with Ridge. But as the saying goes, a blind man could have seen that coming the way Brooke's been hanging on Ridge's arm lately!
Be sure to catch up on everything happening with B & B right now. Come back here often for The Bold and The Beautiful spoilers, news, and updates.