The Bold And The Beautiful Spoilers: Thomas' CEO Scheme, Steffy Disgraced & Ridge Replaced?
The Bold and the Beautiful spoilers reveal that Thomas Forrester (Matthew Atkinson) has lost everything. However, Thomas isn't going to stay down for long. Thomas blames Steffy Forrester Finnegan (Jacqueline MacInnes Wood) for stealing his son. So, Thomas could go after Steffy's job next, which could tie into Hope Logan Spencer's (Annika Noelle) fashion bombshell.
The Bold And The Beautiful Spoilers – Ridge Forrester's Disappearance
B&B spoilers reveal that Thomas managed to break up Ridge Forrester's (Thorsten Kaye) marriage to Brooke Logan (Katherine Kelly Lang). The Child Protective Services scheme, which included a voice-changing app, led to Douglas Forrester (Henry Joseph Samiri) telling Steffy about it.
Then, Taylor Hayes (Krista Allen) learned the truth. However, Taylor didn't tell Ridge… even as they were standing at the altar. That led Steffy to object to the wedding and drop the bombshell about Thomas.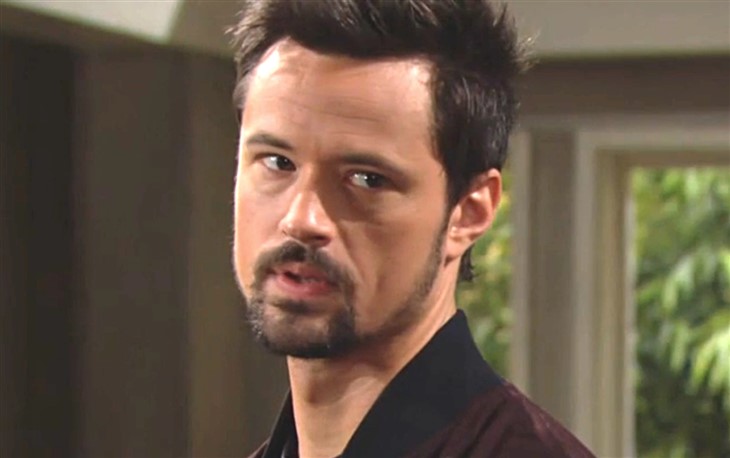 Instead of Ridge crawling back to Brooke, a different storyline unfolded. Brooke suggested that Ridge do some soul-searching. Ridge has been totally MIA since then.
B&B Spoilers – Thomas Forrester's Jab
During a recent episode, Thomas took a jab at Steffy about "calling the shots." It's clear that Thomas was referring to Steffy being in charge at Forrester Creations. Meanwhile, Thomas lost his room at Eric Forrester's (John McCook) mansion. Even though Thomas is crashing with Paris Buckingham (Diamond White), he still doesn't have a place of his own.
Thomas also lost his job designing for Hope for the Future at Forrester Creations. Then, Thomas tried to get his job back and get sole custody of his son. Instead, Thomas' job plea was rejected. In addition to that, Douglas chose to live with Steffy instead of choosing Thomas or Hope.
The Bold And The Beautiful Spoilers – Hope Logan Spencer's Fashion Crisis
The Bold and the Beautiful spoilers reveal that Hope already received a negative review about her latest collection. The review mentioned that Hope for the Future losing Thomas as lead designer was a huge mistake. It is suggested that Thomas might have been responsible for that negative review.
Afterward, Thomas tried to get his job back but Hope told him no. Hope said she would rather risk her entire career than take him back after what he's done.
It is teased that Hope will receive another bombshell about her fashion line. It is also teased that Steffy will make an extreme proposal to solve a business emergency. So, it sounds like Forrester Creations will either need to ax Hope for the Future or give Thomas his job back.
B&B Spoilers – Thomas Forrester's Mission
Thomas won't just be satisfied getting back what he lost, though. Thomas feels like everyone betrayed him, including his own sister. Thomas will want to take something from Steffy.
So, perhaps Thomas will target Ridge and Steffy at the same time. Maybe Thomas takes advantage of Ridge's MIA status and Steffy's extreme proposal. If Steffy's proposal causes a disaster for Forrester Creations, Thomas just might get his wish.
Be sure to catch up on everything happening with B&B right now. Come back often for The Bold and the Beautiful spoilers, news, and updates.