The Bold And The Beautiful Spoilers: Thomas' Unexpected Betrayal
The Bold and The Beautiful spoilers and updates tease that Thomas Forrester (Matthew Atkinson) will feel an unexpected betrayal. He's heard all the rumors about himself and Hope Spencer (Annika Noelle) but finds out Steffy Forrester Finnegan (Jacqueline MacInnes Wood) is the one who inadvertently started them.
The Bold And The Beautiful Spoilers – Trying To Protect Her Brother
It was Steffy's intention to protect her brother, not to hurt him, when she recognized signs of attraction to Thomas in Hope and called her on them. But after calling Hope, who made many denials, to the point of seeming defensive-to Steffy, at least, Steffy went even further to ensure Thomas wouldn't be blamed for obsession.
The Bold and the Beautiful spoilers show Liam Spencer (Scott Clifton) and warned him that his wife was becoming attracted to Thomas, which of course, Liam turned in his own mind to Thomas' obsession.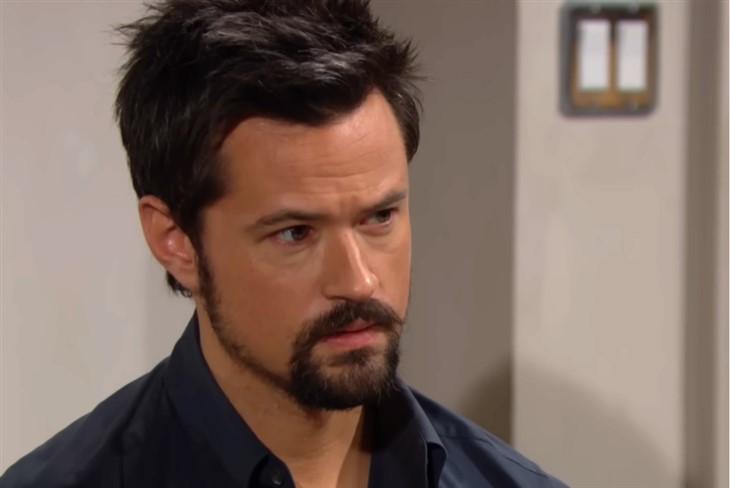 Liam went on the attack at least twice, warning Thomas to stay away from Hope, and Hope from Thomas as well. He doesn't like it when Hope refuses to go to Italy without Thomas, a crucial fashion show and buying trip for Hope For The Future.
B & B Spoilers – Big, Big Backfire
Steffy's well-meaning protection of her brother unfortunately turns into a big, big backfire when the accusations she leveled at Hope about her feelings and actions spread throughout Forrester Creations.
Liam's forays into Hope, Steffy and Thomas' workplace are not helping any because when Liam's not happy, everyone knows all the whys and wherefores in every gory detail!
Then it all turns into office gossip of the worst kind, putting Charlie Webber (Dick Christie) on alert to escorting Thomas away-or worse, telling Thomas and Hope to get a room!
Thomas is reassured by Hope that he doesn't have to worry about Liam, and that her "feelings" for him are only of the purest type.
The Bold And The Beautiful Spoilers – Betrayal Of The Brother Kind
Thomas discovers that Steffy's well-meaning warnings to Hope and Liam are the source of all the rumors about him and Hope. She didn't mean it to turn into a betrayal of the brother kind, she was trying to keep him from being blamed, but also to keep him from backsliding into obsession.
Steffy is being kept very busy by a panicked and suspicious Liam, who's stressing out about the rumors of Hope being in love with Thomas and he in love with Hope!
Steffy is quick to defend Thomas to Liam or to anyone else who is getting the wrong idea about him, but it still feels like a betrayal. Thomas tries to not take it as one, but it's not easy-he doesn't feel he needs protection from either himself or Hope.
Be sure to catch up on everything happening with B & B right now. Come back here often for The Bold and The Beautiful spoilers, news, and updates.