The Bold And The Beautiful Spoilers Wednesday, August 16: Ridge And Brooke Discuss Their Future, Steffy Is Caught In The Middle
Find out what is happening in LA tomorrow on B&B
The Bold And The Beautiful spoilers for Wednesday, August 16 reveal that Ridge Forrester (Thorsten Kaye) and Brooke Logan (Katherine Kelly Lang) will discuss their future.
Meanwhile, Steffy Forrester (Jacqueline MacInnes Wood) Is caught in the middle when it comes to her and her children's safety.
The Bold And The Beautiful Spoilers – Ridge Forrester Has Asked Brooke Logan To Marry Him
The Bold and The Beautiful spoilers Ridge and Brook talk about the future. Ridge had his and Brooke's marriage annulled after Thomas Forrester (Matthew Atkinson) framed Brooke for calling CPS on him.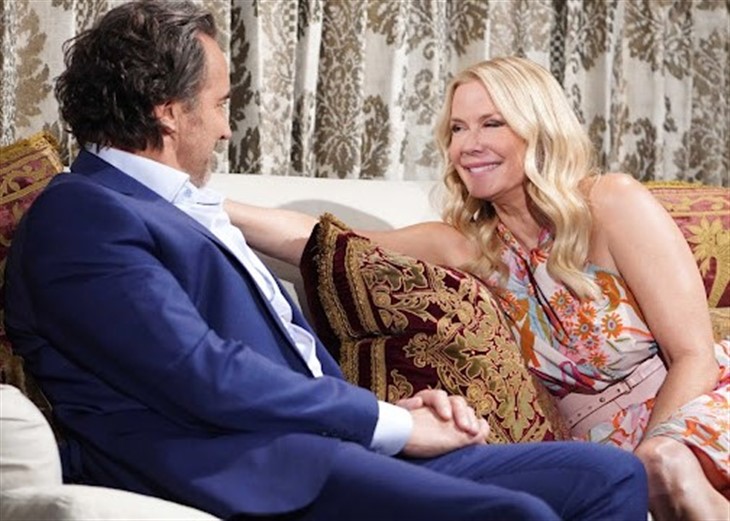 The truth later came out thanks to Douglas Forrester (Henry Joseph Samiri). Now that Brooke and Ridge have worked through their issues, is it time to get remarried?
Ridge is convinced that he saw his destiny through the keyhole in Rome when he saw Brooke standing there. Ridge and Brooke are even doing better at staying out of their children's lives, at least so far.
Is Ridge truly ready to give Brooke his heart and not have Taylor Hayes (Krista Allen) waiting in the wings for things to blow up?
B&B Spoilers – Ridge Forrester Is Quite The Waffler
Ridge has spent decades waffling back and forth between Taylor and Brooke. The moment something goes wrong in his relationship with one of them, Ridge packs up and runs to the other.
Both Brooke and Taylor tried to stop this cycle by becoming friends but that was short-lived. Has Ridge truly chosen the woman he wants to be with this time?
READ THIS: Find out what happens next on The Bold and The Beautiful.
Brooke deserves a man who is willing to give his all to her and not run at the first sign of trouble. However, Ridge has never truly given her that.
Will Taylor stay out of their relationship and leave well enough alone this time? Will Brooke's former bestie try to sabotage her relationship with Ridge and get him back herself?
The Bold And The Beautiful Spoilers – Steffy Forrester Is Caught In The Middle
Steffy is caught in the middle. Taylor believes that Steffy needs to go home and try to work things out with her husband. Steffy is afraid that Sheila Carter (Kimberlin Brown) may do something to her family as she has in the past.
However, The Bold and The Beautiful today reveals Steffy has an irrational fear of Sheila after being shot by her. Finn has promised to keep Sheila out of their lives, doesn't he deserve a second chance?
Ridge and Taylor have been arguing over what is best for Steffy. Ridge believes that Steffy needs to stay at Eric Forrester's (John McCook) until Finn gets his head on straight. Will Steffy go home to her husband or will she end up cheating with Liam Spencer (Scott Clifton)? Who does Steffy truly belong with?
Be sure to catch up on everything happening with B&B right now. Come back here often for The Bold And The Beautiful spoilers, news, and updates.