The Bold and the Beautiful Spoilers Wednesday, December 5: Bill Delivers Shocking Explanation to Brooke – Quinn Faces Pam's Sneakiness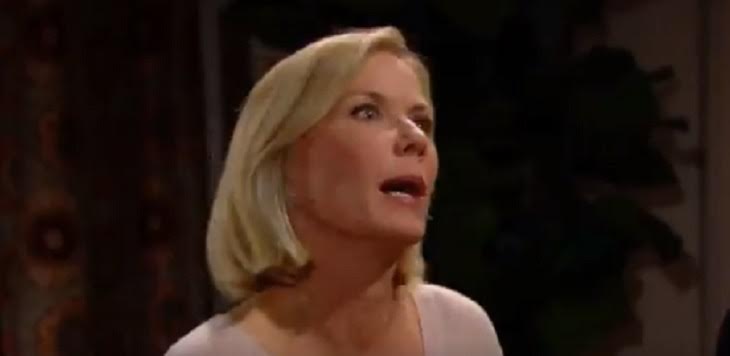 "The Bold and the Beautiful" spoilers for Wednesday, December 5, tease that Donna's (Jennifer Gareis) private modeling session will continue. Things have gotten off to a nice start since Eric (John McCook) seems to be enjoying the show. That's exactly what Pam (Alley Mills) has in mind, so she'll want to keep the fun going for as long as possible.
Of course, keeping Quinn (Rena Sofer) away will present a challenge. B&B spoilers say Pam will have her work cut out for her as she creates a distraction. Quinn's a smart cookie, so she may catch on eventually. She might sense that Pam's trying to divert her attention and prevent her from returning to Eric.
Regardless, Quinn will figure out what's up one way or another. "The Bold and the Beautiful" spoilers say another fierce faceoff is brewing. Quinn will undoubtedly blast both Pam and Donna over their scheme. She may urge Eric to see what she's really up against.
Donna and Pam are playing dirty, so Quinn may have to fight fire with fire. Eric has assured Quinn that she doesn't have to worry, but that won't stop her from protecting her marriage. Too bad Quinn could end up sabotaging it instead! We all know how she can be when she gets an idea in her head and takes it too far.
Brooke angrily confronts Taylor about her past, present and future behavior. WATCH FULL EPISODE: https://t.co/g0uPb7rmnD #BoldandBeautiful pic.twitter.com/AIiI8lOKNJ

— Bold & The Beautiful (@BandB_CBS) December 4, 2018
Other "Bold and the Beautiful" spoilers say Brooke (Katherine Kelly Lang) will keep Taylor's (Hunter Tylo) secret for now. However, she'll inform another secret circle member that she's joined the club. Brooke will grill Bill (Don Diamont) about the cover-up on Wednesday and wonder why he would keep Taylor out of prison. She won't think Taylor deserves to be out on the streets, but Bill will defend her.
Bill will try to help Brooke understand Taylor's perspective. He'll own up to his wrongdoings and acknowledge that Taylor has every right to be angry. That doesn't mean Bill approves of how Taylor handled it, but it's at least enough for him to keep his promise.
Brooke will still be surprised that Bill didn't press charges, but he'll explain that she's the reason for that. Bill wants to prove he's a better man in every way, so he's trying to show mercy and love harder. How long can Bill keep this up? We'll give you updates as other B&B news and rumors emerge. Stick with the CBS soap and don't forget to check CTS often for the latest "Bold and the Beautiful" spoilers, rumors, updates and news.
Want up-to-the-minute soaps news, spoilers, and gossip on your social feeds? Just hit 'Like' on our Facebook page and 'Follow' on our Twitter account.