The Bold and the Beautiful Spoilers Wednesday, March 13: Steffy's Big Announcement Rocks Liam and Hope – Sally and Wyatt Get Sneaky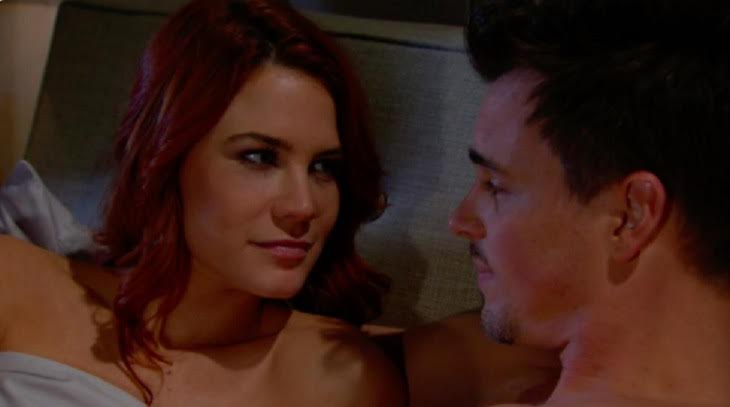 "The Bold and the Beautiful" spoilers for Wednesday, March 13, tease that Steffy Forrester (Jacqueline MacInnes Wood) will deliver quite a shocker. She'll approach Liam Spencer (Scott Clifton) and Hope Spencer (Annika Noelle) with huge news – and it affects all three of them. Steffy will realize this decision may be met with some resistance, but she'll feel confident it's what she has to do.
B&B fans can expect Steffy for voice her support for "Lope." She'll understand that things have been difficult for Hope and Liam since Beth Spencer "died." Steffy's heart broke for Hope when she pushed so hard for a "Steam" reunion. Hope's clearly obsessed with "Phoebe Forrester" (Isabella de Armas), so Steffy will feel like it's best to create some distance.
"The Bold and the Beautiful" spoilers say Steffy will announce an extended trip. She's going to visit Paris for a while and let Liam heal his marriage to Hope. Steffy won't think it's wise for her to hang around with "Phoebe" and Kelly Spencer (Zoe Pennington and Chloe Teperman). Hope could head down that familiar road of pushing Liam to be a united family, which would only add to her pain.
Of course, Liam and Hope will be stunned by Steffy's choice. You can bet Hope will worry about Liam missing the girls. She wanted more Daddy time for the kids, not less! Hope may blame herself for the separation that's coming, but Steffy won't want her to look at it like that. Besides, Paris is just a plane ride away. She'll reassure both Liam and Hope that this will be a good thing for all of them.
Wyatt assures Sally about his love for her and his commitment to reviving "Spectra" fashions. WATCH FULL EPISODE: https://t.co/SivgX7MKIF #BoldandBeautiful pic.twitter.com/RuRJLMkXP6

— Bold & The Beautiful (@BandB_CBS) March 12, 2019
Other "Bold and the Beautiful" spoilers say Donna Logan (Jennifer Gareis) and Justin Barber (Aaron D. Spears) will keep up their matchmaking efforts. They'll even recruit a couple new Cupids to join their team. Wyatt Spencer (Darin Brooks) and Sally Spectra (Courtney Hope) will get updates on the plan to reunite Bill Spencer (Don Diamont) with Katie Logan (Heather Tom). They'll be asked to do a sneaky favor that could help move the process along.
Sally and Wyatt will get on board, so Katie and Bill are in for some fun surprises soon. We'll keep you posted as other B&B details and rumors emerge. Stay tuned to the CBS soap and don't forget to check CTS often for the latest "Bold and the Beautiful" spoilers, rumors, updates and news.
Want up-to-the-minute soaps news, spoilers, and gossip on your social feeds? Just hit 'Like' on our Facebook page and 'Follow' on our Twitter account.