The Bold And The Beautiful Spoilers: Would Thomas Fight Brooke For Hope's Freedom To Love Who She Wishes?
The Bold and The Beautiful spoilers and rumors pose the question, would Thomas Forrester (Matthew Atkinson) fight Brooke Logan (Katherine Kelly Lang) for Hope Logan's (Annika Noelle) freedom? Brooke has continually shoved Liam Spencer (Scott Clifton) back in Hope's face, and he doesn't want her anymore-and Hope wants Thomas and Thomas wants her!
The Bold And The Beautiful Spoilers – Hope Logan's Tired Of Being Controlled
Thomas knows that Hope is tired of being controlled, and of herself being manipulated by her mother and Liam.
Brooke had absolutely no business walking into Thomas' house just because the door was unlocked, and even less business bursting into his bedroom where he and Hope were involved!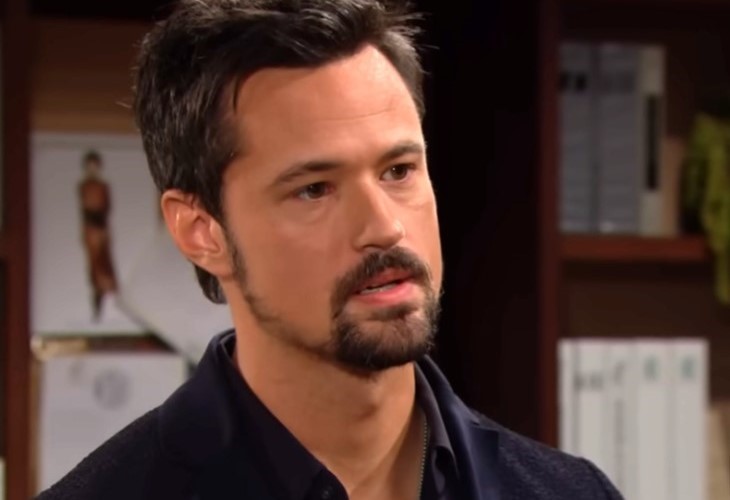 Hope is a grown woman but Brooke treats her just like she was a teenager sneaking out with her teenage boyfriend, afraid she'll get pregnant.
Far more worse than worrying about a pregnancy, Brooke would be worried about losing control-control of a daughter who is years beyond legal age.
Thomas knows Brooke has never been able to control herself with men, which is why he and his sister tried to steer their dad away; so she tries to control Hope.
B & B Spoilers – Thomas Forrester Is Loyal To Hope Logan
Thomas is extremely loyal to Hope, and he hasn't forgotten she helped save his life twice-once when he collapsed at his apartment from his near fatal brain aneurysm.
The other was not too long after, when Justin Barber (Aaron D. Spears) entrapped him at the Spencer tower while Liam and Bill Spencer (Don Diamont) were in jail.
They were accused of murdering Vinnie Walker (Joe LoCicero) by hit and run, in spite of Bill destroying evidence-Liam would do good to remember that time Thomas saved them.
Zende Forrester (Delon de Metz) helped Thomas update his phone and Vinnie's suicide message as a goodbye to Thomas came up-he'd run in front of their car.
READ THIS: Find out what happens next on The Bold and The Beautiful.

The Bold And The Beautiful Spoilers – Thomas Forrester Defends Hope Logan's Rights To Love Who She Chooses
Once again, interfering Brooke breaks in on Thomas and Hope making love-this time when Brooke starts in on Hope, right in front of Thomas, he acts!
He physically gets in between the combatant mother and daughter and defends Hope's right to decide who she's with, and to love who she chooses.
Brooke immediately throws in his face his and Steffy Forrester's (Jacqueline MacInnes Wood) attempts to parent trap Ridge Forrester (Thorsten Kaye) into marrying Taylor Hayes (Krista Allen).
Thomas argues Brooke is comparing apples to oranges and they're not talking about his parents, they're talking about Hope.
Besides, if Brooke hadn't hurt Ridge so many times, running from man to man, Thomas wouldn't have been desperate enough to trick him like that!
Be sure to catch up on everything happening with B & B right now. Come back here often for The Bold and The Beautiful spoilers, news, and updates.
For more about what's happening on your favorite soaps and more ways to connect with us, join the conversation on our Facebook Page, check out our Twitter feed, look for an update on our Instagram, follow us on Threads , Always stay up-to-date with us on Google News, or drop us an e-mail HERE! See you there!