The Bold And The Beautiful Spoilers: Eric Fires Ridge? – Forrester Family Storm Brewing
The Bold and the Beautiful spoilers document that Eric Forrester (John McCook) has been agitated lately. Then, after asking Ridge Forrester (Thorsten Kaye) to help him bring a legacy line to life, Eric's feelings are hurt.
There have been times in the past when this adoptive father and son were at odds. Devoted viewers recall a storyline in the recent past where Ridge became incredulously fascinated with his father's wife, Quinn Fuller (Rena Sofer).
Eric cut Ridge out of his life after the betrayal with Quinn. But they overcame the rift, partially because of the role Quinn played in facilitating it.
Bold and the Beautiful Spoilers Highlights
The current storyline is being presented intriguingly, with a wink toward the word before the comma.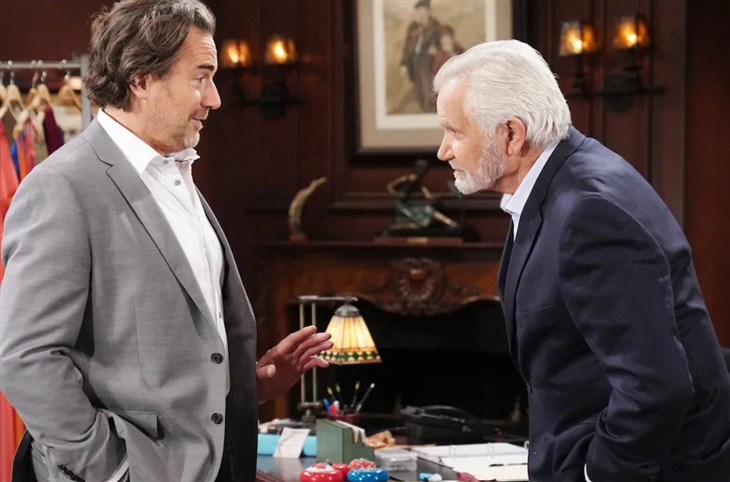 Is Eric demonstrating signs of someone who is dealing with the early effects of dementia? Possibly. But another plot path could be pursued, where his memory issues are minor, and the arthritis frustration is impacting his state of mind.
But something does feel different because why write McCook's character into repeated instances where he was having trouble remembering without following through on what could be a serious and likely sensationally compelling plot line?
B&B Spoilers – Eric Forrester Is Not Retired
Eric never intended to retire. His brainstorm, to create a new line, was sparked by the failure he had when collaborating with Zende Forrester Dominguez (Delon de Metz).
The above was necessary because Thomas Forrester (Matthew Atkinson) screwed up. He attempted to frame Brooke Logan (Katherine Kelly Lang), which failed.
The fallout meant that Ridge had to fire his son for cause. That more recent event could have set a soapy precedent that Eric may cite.
MUST READ – B&B Spoilers: Taylor Returns From Rome With Hot New Man, Ridge Jealous!
The Bold And The Beautiful Spoilers – Ridge Forrester Feeling The Pressure
Ridge is secure in himself and his job. His dad entrusted him to head the company in recent years, with Eric stepping back to enjoy some of the good life.
Steffy Forrester Finnegan (Jacqueline MacInnes Wood) worked well with her father as co-Chief Executive Officer at Forrester Creations. But the latest Sheila Carter (Kimberlin Brown) scare caused Steffy to flee the country with her children as she attempts to protect them and herself.
So, all the pressure is on Ridge now. Whether the rift between him and Eric grows is intriguing. If it does widen, Eric has already warned Ridge that he can make whatever move he feels necessary on B&B.
This site is a leading source for everything linked to The Bold and the Beautiful. Check back regularly for B&B spoilers and news!