Coronation Street: Daniel's Paranoia Grows Over Daisy And Ryan's Connection
Coronation Street spoilers, news, and updates tease that Daniel Osbourne will become paranoid as Daisy Midgeley (Charlotte Jordan) grows closer to Ryan Conner (Ryan Prescott). Rob Mallard, the actor behind Daniel's character, opens up about his alter ego's complicated feelings.
Daniel can't shake off the feeling that there's a romantic spark between Daisy, his fiancé, and Ryan, who protected the latter from Justin's acid attack. In an interview with the media, Mallard said that his character wished that he had been there when the horrific incident happened.
"She is Daniel's, and he is hers; they have given themselves to each other, and they are going to get married, so he feels like it's his job to protect her. So he feels like, deep down, he should have been the one to save her from the acid attack," Mallard said.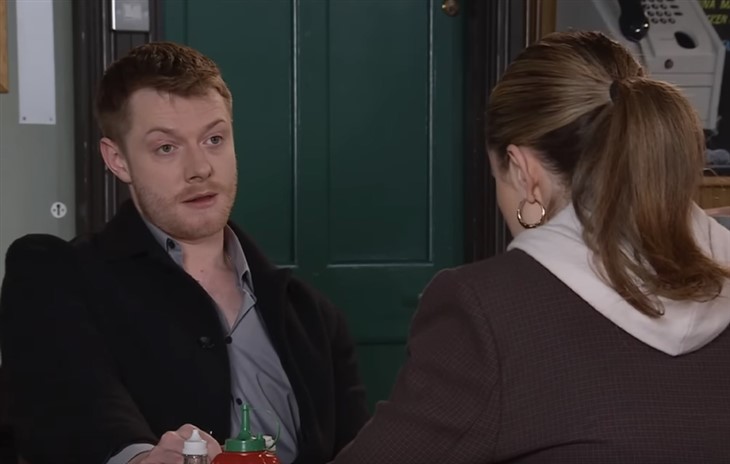 "Daniel understands that Daisy and Ryan have a connection to each other that he will never be a part of because they both survived something horrific together, and that bonds people," the actor explained.
He added that Daniel is worried that Ryan and Daisy may rekindle their past, albeit a short relationship. During the trial, he'll grow even more paranoid when he notices a connection between the former couple. He'll feel insecure, and he'll start assuming the worst.
"In Roy's Rolls, when Daniel challenges Daisy about the tension between her and Ryan, she rationalizes it away as just the connection that they have with each other," he added.
Mallard explains that Daniel thinks that there's something going on between Daisy and Ryan. His feelings are so strong that he ends up confronting Daisy on the day of the verdict. He firmly believes that he's being lied to.
Coronation Street Spoilers – Will Daniel Osbourne Come Clean To Ryan Conner About Daisy Midgeley's Deception?
When asked whether Daniel will spill the beans about Daisy's deception, Mallard teased that he understands why she did what she did. He believes that Daisy must be the one who should reveal her secret and not him. Because if he tells Ryan the truth, he'll just end up causing both Ryan and Daisy more pain. He thinks that it's better if Daisy fixes her own mess.
Coronation Street Spoilers – What Will Happen If Daniel Osbourne Learns About The Kiss?
"Daniel would be devastated. He would be angry with Daisy but probably less so with Ryan. Daisy's betrayal would devastate him, and it would change things between them," Mallard said.
He may be able to forgive her, but he won't forget her unfaithfulness. If this happens, their relationship will be more volatile and prone to having trust issues.
Be sure to catch up on everything happening with Coronation Street right now. Come back here often for Coronation Street spoilers, news, and updates.