Coronation Street: Will Evelyn Open Up To Roy?
Coronation Street spoilers, news, and updates tease that the soap is set to explore Evelyn Plummer's (Dame Maureen Lipman) feelings for Roy Cooper. She'll rush to talk about her feelings but will she get the chance to open up? Next week, fans will get to see Evelyn start to feel deeply connected to Roy, who's facing a string of health problems lately. The latter has been struggling with chest pains and breathlessness. Evelyn scrambles to call for help when Roy suffers intense chest pain while walking his dog Freddie.
Coronation Street Spoilers – In Upcoming Scenes, Roy Cooper Informs His Niece About His Latest Health Update.
His doctors recommend that he undergo an operation. Worried that he may not survive the surgery, Roy writes several letters and asks Evelyn to distribute them in case he dies.
Intrigued at the pile of letters that were entrusted to her, Evelyn starts to go through them and finds one that Roy wrote for her. She wants to know what he wrote so she sneakily holds the letter up to the light.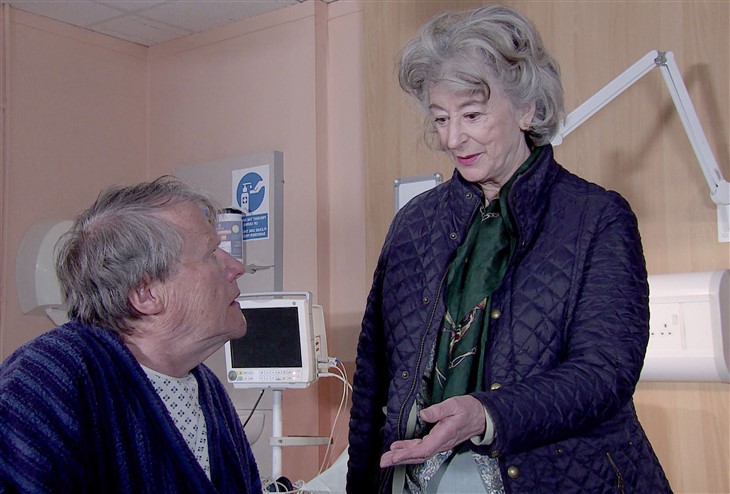 Evelyn drops by at the hospital before Roy's operation to wish him luck. While the surgery is underway, she decides to read the letter and finds out what she really means to Roy. She heads back to the hospital, feeling excited to open up to Roy.
However, disappointment comes her way when she learns that Yasmeen Metcalfe is already at Roy's bedside. Will Evelyn ever get the chance to open up to Roy? What kind of feelings does she have for him?
Coronation Street Spoilers – Dame Maureen Lipman Opens Up About Possible Evelyn and Roy Romance
Some fans have been wondering if Roy and Evelyn will become an item. Dame Maureen Lipman, the actress who plays Evelyn addressed these concerns earlier this year.
"I don't think Evelyn has the hots for Roy, or him for her. It's lukewarm at best and I don't think she's going to get her vest off," she said.
"But there are many forms of love – they're lonely people. She had the chance for romance with Arthur and sort of blew it. I think the stable door is shut and the horse has bolted," she continued.
"She does want to spend time with him [as] Roy understands about grieving. He gets where she's coming from – [it] doesn't take much to bring her round because she knows where her bread's best buttered," she added.
Be sure to catch up on everything happening with Coronation Street right now. Come back here often for Coronation Street spoilers, news, and updates.