Days Of Our Lives Spoilers: 3 Must-See DOOL Moments – Week of May 29
Days of Our Lives spoilers reveal that there are three must-see moments next week. From May 29 to June 2, fans can expect Bonnie Lockhart Kiriakis (Judi Evans) to see a pregnant Sarah Horton (Linsey Godfrey). Nicole Walker's (Arianne Zucker) secret is exposed.
Meanwhile, Stefan DiMera (Brandon Barash) and Gabi Hernandez (Camila Banus) have a new scheme. Keep reading to find out what is coming up in the Peacock soap opera.
Days Of Our Lives Spoilers – Bonnie Lockhart Kiriakis' Discovery
DOOL spoilers for the week of May 29 reveal that one must-see moment features Sarah. The last time that fans saw Sarah, she just found out about her pregnancy. Rex Brady (Kyle Lowder) offered Sarah a solution so she didn't have to be tied to Xander Cook (Paul Telfer) through the baby.
Fans will finally see Sarah again, who appears to be about 7 months pregnant. Bonnie hugs Sarah during a visit to Rex. Then, Bonnie tells Sarah that she looks a tad preggo.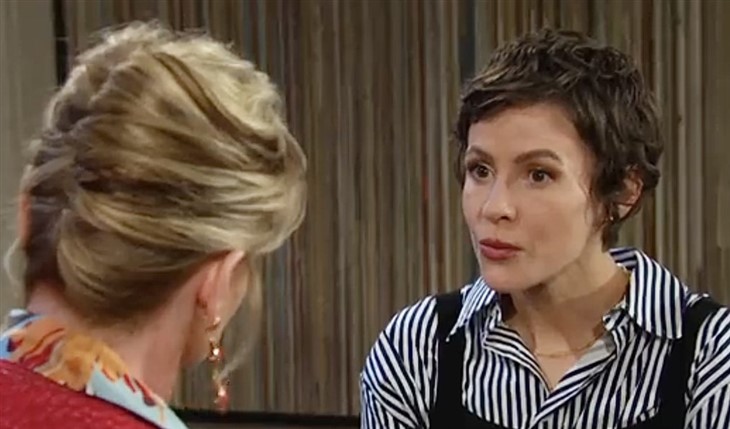 So, will Sarah tell Bonnie the truth about the baby's paternity? It was Bonnie that encouraged Sarah to forgive Xander. Sarah didn't take the advice, but she could open up to Bonnie.
That would put Bonnie in a tough spot, though. Will Bonnie keep Sarah's secret or expose the truth?
DOOL Spoilers – Nicole Walker Exposed
During the week of May 29, another must-see moment centers on Nicole. Now, Nicole wants to know the baby's paternity before telling anyone about her pregnancy.
Sloan Petersen (Jessica Serfaty) helps Nicole get Eric Brady's (Greg Vaughan) DNA for the paternity test. However, Eric tells Sloan that he is aware of her deception. That is when Sloan tells Eric that Nicole is pregnant.
Not only does Eric find out but so does EJ DiMera (Dan Feuerriegel) as well as Marlena Evans (Deidre Hall). Then, Kayla Johnson (Mary Beth Evans) has the DNA results by the end of the week.
Days Of Our Lives Spoilers – 'Stabi' Play Dangerous Game
Days of Our Lives spoilers for the week of May 29 reveal that another must-see moment includes "Stabi." It is teased that Stefan and Gabi will try to get Megan Hathaway (Miranda Wilson) as well as Kristen DiMera (Stacy Haiduk) on their side. This is an extremely dangerous game "Stabi" is playing, though. Could it lead to Banus' exit storyline?
DOOL Spoilers – More Must-See Moments
Fans can also expect Leo Stark (Greg Rikaart) to push Johnny DiMera (Carson Boatman) for gossip. Xander and Chloe Lane (Nadia Bjorlin) share a kiss. Plus, Justin Kiriakis (Wally Kurth) demands answers from Maggie Horton Kiriakis (Suzanne Rogers) regarding Alex Kiriakis' (Robert Scott Wilson) termination from Titan Industries.
Which storyline are you looking forward to seeing the most? Share your thoughts and remember to keep watching the soap on Peacock to find out what happens next.
Be sure to catch up on everything happening with DOOL right now. Come back often for Days of Our Lives spoilers, news, and updates.