Days Of Our Lives Spoilers Monday, May 29: Megan Schmoozed, Eric's Discovery, Anna's Fear
Days of Our Lives spoilers for Monday, May 29 reveal that Stefan DiMera (Brandon Barash) and Gabi Hernandez (Camila Banus) try to schmooze Megan Hathaway (Miranda Wilson). Eric Brady (Greg Vaughan) catches Nicole Walker (Arianne Zucker) and Sloan Petersen (Jessica Serfaty) conspiring. Plus, Anna DiMera (Leann Hunley) worries about her marriage while Leo Stark (Greg Rikaart) digs for DiMera dirt.
Days Of Our Lives Spoilers – Eric Brady's Discovery
DOOL spoilers for Monday, May 29 reveal that Nicole and Sloan will work together to keep Eric from finding out the truth. Now, Nicole isn't ready for EJ DiMera (Dan Feuerriegel) to know about the baby. As for Sloan, she doesn't really care what happens to EJ and Nicole's relationship'. What Sloan wants is to keep her man and the "Ericole" baby poses a threat.
As Sloan and Nicole are forced to work together, they get caught by Eric. Of course, Eric will want to know what the enemies are whispering about. However, Nicole and Sloan will cover. At least, for the time being.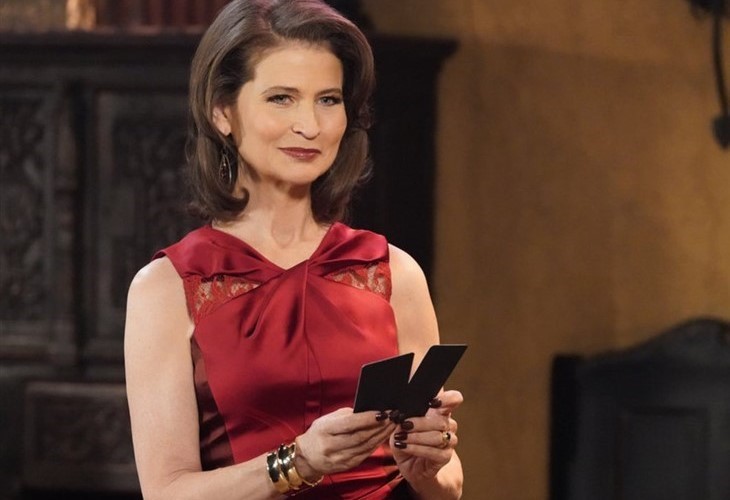 DOOL Spoilers – Anna DiMera's Fear
On Monday, May 29, fans can expect to see Anna continue fretting about Nicole's secret baby situation. Anna told Nicole that she wouldn't tell anyone. However, Anna has a hard time keeping things from Tony DiMera (Thaao Penghlis). Plus, Anna doesn't want Tony to think that he suddenly can't trust her. So, that led to Tony finding out the news.
Once Tony learns the truth, Anna will try to explain. Anna will also fear that Tony might expose Nicole's secret.
Days Of Our Lives Spoilers – Leo Stark Digs For Dirt
Days of Our Lives spoilers for Monday, May 29 reveal that Leo will dig for more dirt. As the writer of The Spectator's gossip column, Lady Whistleblower, Leo needs dirt. Leo will turn to Johnny DiMera (Carson Boatman) to see if there is any juicy DiMera dirt. However, Johnny won't be interested in helping Leo at all.
DOOL Spoilers – Monday, May 29
On Monday, May 29, fans can expect Stefan and Gabi to seize an opportunity. After EJ is blindsided to find Megan in his living room, "Stabi" officially meet the villain. Stefan and Gabi will be determined to get Megan on their side. However, the couple is tangling with a very dangerous woman.
Which storyline are you looking forward to seeing the most on Monday, May 29? What are your predictions for Nicole, Sloan, Eric, EJ, Anna and Tony? What does the future hold for Leo, Johnny, Stefan, Gabi, Megan and the other characters? Share your thoughts in the comment section below. Remember to keep watching the soap on Peacock to find out what happens next.
Be sure to catch up on everything happening with DOOL right now. Come back often for Days of Our Lives spoilers, news, and updates.