Days Of Our Lives Spoilers: 3 Must-See Moments – Week Of May 22
Days of Our Lives spoilers for the week of May 22 reveal that there are three must-see moments. Talia Hunter (Aketra Sevillian) leaps into action to save Chanel Dupree's (Raven Bowens) life. EJ DiMera's (Dan Feuerriegel) marriage proposal flops. Meanwhile, Megan Hathaway (Miranda Wilson) and Kristen DiMera (Stacy Haiduk) are both released from prison. Keep reading to find out what is coming up in the Peacock soap opera.
Days Of Our Lives Spoilers – Talia Hunter's Literal Leap
DOOL spoilers reveal that one must-see moment during the week of May 22 centers on Talia. At one time, Talia quizzed Colin Bedford (Jasper Newman) about his end game for Chanel and Paulina Price (Jackee Harry). Specifically, Talia wanted to be sure that Colin wasn't planning on committing murder. Colin assured Talia that he wasn't a killer like Chanel.
However, Talia finally realizes she was in bed with a killer after all. As a hospitalized Abe Carver (James Reynolds) worries about Paulina, Colin is holding a gun to her head. Then, Chanel rushes to the Salem Inn rooftop. That is when Talia realizes what she's done and takes action.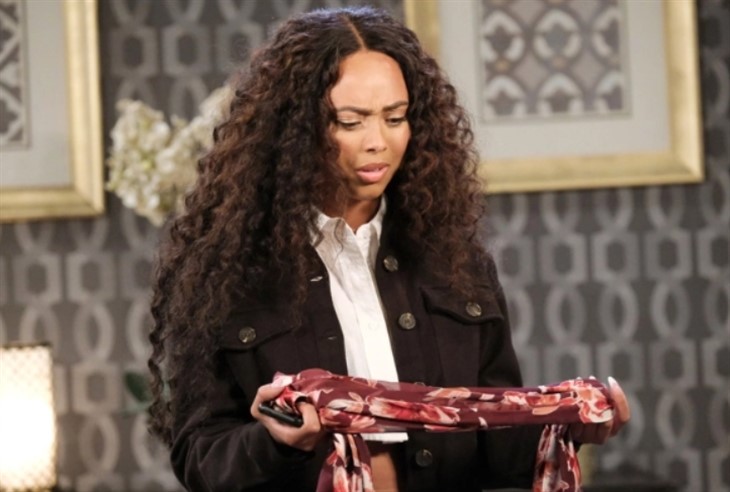 This will lead to Talia saving Chanel's life but what about the damage that has already been done?
DOOL Spoilers – EJ DiMera's Proposal
During the week of May 22, another must-see moment centers on EJ and Nicole Walker (Arianne Zucker). Just as Stefan DiMera (Brandon Barash) and Gabi Hernandez (Camila Banus) plan their upcoming nuptials, EJ proposes to Nicole.
However, Nicole turns EJ down flat. It has nothing to do with Nicole possibly carrying Eric Brady's (Greg Vaughan), either. Apparently, Nicole finds EJ's proposal insulting and insincere.
Days Of Our Lives Spoilers – Vindictive Villains Released
Days of Our Lives spoilers for the week of May 22 reveal that another must-see moment focuses on two dangerous villains. One is Megan, who gets released from prison thanks to Dimitri von Leuschner's (Peter Porte) immunity/leverage scheme. Megan immediately moves into the DiMera mansion. However, Megan will have to explain things to EJ!
It is also teased that Stefan and Gabi cozy up to Megan. Now, "Stabi" might be trying to protect themselves. At the same time, it could lead to Gabi's exit as Banus already confirmed she is leaving the soap.
DOOL Spoilers – Must-See Moments
The other villain that gets released from prison is Kristen. Apparently, Megan tries to skirt on their deal. Kristen has to remind Megan that she promised to get her out of jail. Eventually, Kristen does get free, much to Marlena Evans' (Deidre Hall) and Brady Black's (Eric Martsolf) dismay.
Which one of the above must-see moments are you the most excited about? Share your thoughts in the comment section below. Remember to keep watching the soap on Peacock to find out what happens next.
Be sure to catch up on everything happening with DOOL right now. Come back often for Days of Our Lives spoilers, news, and updates.