Days Of Our Lives Spoilers: Ava's Love Triangle, Who Competes With Harris After Susan's Rescue?
Days of Our Lives spoilers reveal that EJ DiMera (Dan Feuerriegel) currently wants Ava Vitali (Tamara Braun) dead.
However, EJ's heart could change after Susan Banks (Stacy Haiduk) turns up alive. In the meantime, Ava seems to be getting closer to Harris Michaels (Steve Burton).
After Susan's return, could Ava find herself in an unexpected love triangle? Keep reading and let's discuss what could happen next.
Days Of Our Lives Spoilers – EJ DiMera's Vengeance Quest
DOOL spoilers reveal that EJ had a few nightmares about Susan. It was most likely Susan trying to tell EJ that she is alive and needs help. However, EJ took the nightmares as an omen for him to avenge his mother's "death."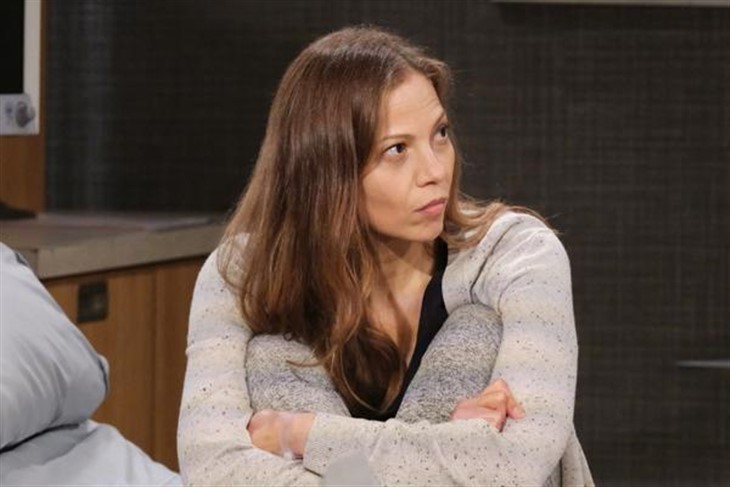 That led EJ to hire a hitwoman to take out Ava. However, the plan went wrong. The hitwoman ended up hospitalized while Ava went on the run with Harris.
DOOL Spoilers – Ava Vitali's Hallucinations
While Ava was in Bayview, she kept seeing Charlie Dale (Mike Manning). Then, Ava suddenly stopped seeing Charlie but then Susan began appearing to her. It's becoming clear that Susan is using her powers to reach out to someone.
EJ received dreams, but really thought it was a message about avenging Susan's death. So, since EJ wasn't paying attention very well, Susan went to the next available headspace that was open enough to get her message.
READ THIS: Find out what happens next on Days Of Our Lives.
Days Of Our Lives Spoilers- Harris Michaels' Bond
After Ava shot EJ's hitwoman, she went on the run with Harris. The two have bonded and become friends.
However, there are times when Harris looks at Ava, and there almost seems to be a bit of a spark. Neither has done anything about it yet, but it's clear there is a special dynamic being built.
DOOL Spoilers – Love Triangle?
At some point, Harris and Ava will probably end up having a romantic relationship. However, once Susan is found alive and EJ lets go of this vengeance quest, he could look at Ava differently as well.
Fans have seen enemies give into passion and even fall in love. Stefan DiMera (Brandon Barash) and Gabi Hernandez-DiMera (Camila Banus) are one example of this.
So, will Ava find herself in a love triangle between Harris and EJ once Susan is found alive? If so, it would be a shame for Ava to choose EJ after all the risks that Harris has taken for the former mob princess. At the same time, this is usually the way it goes in soaps.
Share your thoughts in the comment section below. Remember to keep watching the soap on Peacock to find out what happens next.
Be sure to catch up on everything happening with DOOL right now. Come back often for Days of Our Lives spoilers, news, and updates.