Days Of Our Lives Spoilers: Bonnie Discovers Sarah Is Pregnant
Days of Our Lives spoilers reveal Sarah getting a surprise when she arrives home to Rex's Chicago apartment.
Days Of Our Lives Spoilers – Big Surprises For Sarah Horton And Rex Brady
Sarah Horton (Linsey Godfrey) slept with both Xander Cook (Paul Telfer) and Rex Brady (Kyle Lowder) within the same time period, but as soon as Sarah learned she was pregnant, she knew it had to be Xander's baby because of how far along she was.
Since she had just divorced Xander for constantly keeping secrets and lying to her, Sarah did not want him to know she was carrying his child. So, when Rex offered her an opportunity to work with him in Chicago, she took it.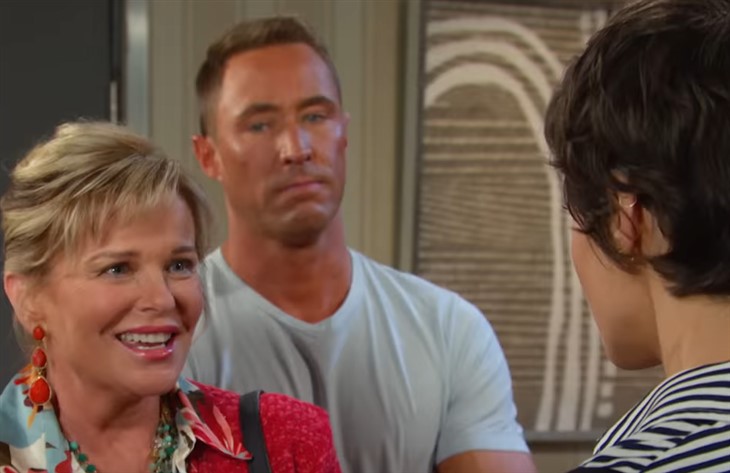 Imagine her surprise when she gets home thinking she would only see Rex, but finds that Bonnie Lockhart Kiriakis (Judi Evans) is there, as well.
According to Days of Our Lives spoilers, Bonnie has a big mouth and even likes Xander despite him kidnapping her, so Sarah knows she needs to hide her big belly.
DOOL Spoilers – Bonnie Can't Believe Her Eyes
Too bad Sarah isn't very good at that because she sticks a suitcase in front of her but all that Bonnie can do is laugh. It's quite obvious that Sarah is pregnant and Bonnie immediately deduces that this baby is Xander's.
"This is the worst-case scenario," Linsey Godfrey said in the June 5, 2023, issue of Soap Opera Digest. "Sarah thought she was going to be able to get out of Salem and get away from this person who did these horrible things and who she's afraid of because of these horrible things."
While Sarah certainly doesn't think that Xander would ever purposely harm their child, she does worry about his lifestyle.
"She's not necessarily afraid of Xander, but of the danger that he could accidentally put his kid in because of who he is and the hijinks and poor decisions that he makes."
Sarah does her best to convince Bonnie that she is carrying Rex's child, but it won't be an easy feat. After Bonnie leaves, Sarah is petrified that her secret is not safe. If Bonnie does spill the beans, what does this mean for Xander's burgeoning relationship with Chloe Lane (Nadia Bjorlin)? Stream new episodes of Days of Our Lives weekdays on Peacock starting at 6 AM EST.