Days Of Our Lives Spoilers: Chloe Learns The Truth About Baby Victoria, Stays Quiet To Keep Xander
Days of Our Lives (DOOL) spoilers hint that Sarah Horton's (Linsey Godfrey) secret about baby Victoria Margret Horton and the little one's "real" dad is on the cusp of coming out, and in true Salem style, Xander Kiriakis's (Paul Telfer) fiancé may be the next one in line to find out the truth.
Days Of Our Lives spoilers – Chloe Lane Is About To Learn A Secret
Days spoilers for the week of September 25 suggest that Chloe Lane (Nadia Bjorlin) will stumble upon a secret.
Of course, with all the truths being hidden around the little town, this really could be about anything from Nicole Walker's (Arianne Zucker) real baby daddy to how Theresa Donovan (Jenn Lilley) still has feelings for Brady Black (Eric Martsolf).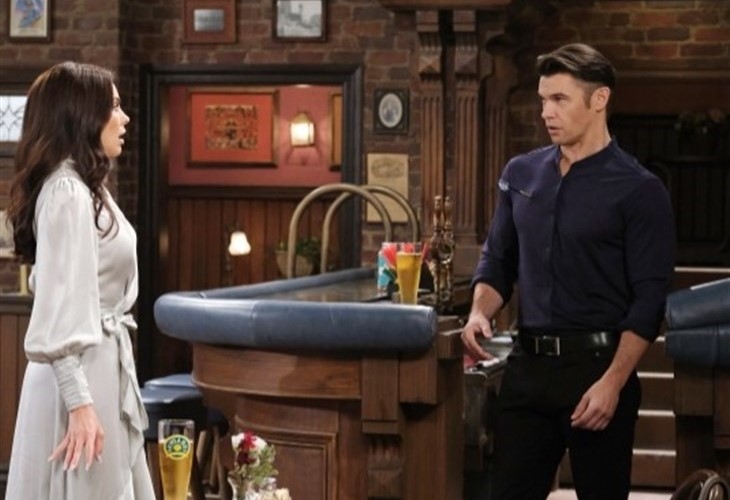 Still, in typical soap opera fashion, this spoiler likely means that Chloe will learn that Baby Victoria is actually Xandy's child and not Rex Brady's (Kyle Lowder) as Sarah has been saying.
What will she do next?
Days Spoilers – Chloe Lane Will Wrestle With Her Conscience
DOOL spoilers for the week of September 25 imply that Chloe will wrestle with her conscience; another key indicator that she learns the truth about Baby Victoria's paternity.
Of course, Ms. Lane is conflicted. She can sense that while Xandy adores her, he still has feelings for Sarah.
Anyone who witnessed the birth of the baby, and how Xand supported Sarah during delivery and beyond could see that Kiriakis is still madly in love with Ms. Horton.
READ THIS: Find out what happens next on Days Of Our Lives.
Finding out they share a baby together would be the "sign" he needs to dump Chloe, forget about their wedding and engagement, and start re-pursuing Sarah.
Whether Chloe overhears Sarah and Rex talking about it, or possibly Maggie Horton (Suzanne Rogers), Justin Kiriakis (Wally Kurth), and Bonnie Lockhart (Judi Evans), she'll learn that Ms. Horton's baby is actually Xandy's.
Will she come forward and tell him the truth or sit on it and scheme to keep it hidden from him?
Will Chloe tell Xander the truth about Sarah's baby, when she finds out? Share your thoughts below.
Watch the popular Peacock soap daily to see what happens next and visit this site regularly for the best Days of Our Lives updates, spoilers, and news.
For more about what's happening on your favorite soaps and more ways to connect with us, join the conversation on our Facebook Page, check out our Twitter feed, look for an update on our Instagram, follow us on Threads , Always stay up-to-date with us on Google News, or drop us an e-mail HERE! See you there!