The Young And The Restless Spoilers: Sally Tells Nick About Adam Kiss – Brother Blowup Looms?
The Young and the Restless spoilers document that Sally Spectra (Courtney Hope) is surprised when Adam Newman (Mark Grossman) kisses her. That happens after they enjoy an unexpected dinner. Why would Sally appear to be reopening a connection with a man she has so often claimed is detrimental to her stability? Of course, the answer involves the unresolved feelings they have for each other.
Adam has been open about still being in love with her, but he has accepted the fact that Sally is with his brother, Nick Newman (Joshua Morrow).
The Young And The Restless Spoilers – Nick Newman Was The Right Pick
Nick has his issues, but he has not exhibited those during his relationship with Sally. They came together during a time in the plot when Nick got past the distrust, he had for the woman who was seemingly devoted to Adam.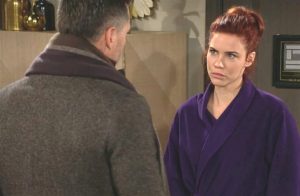 Sally had her heart broken by Adam when he claimed to have never loved her. He also added that she would be better off without him based on his pattern of hurting anyone whom he was close to.
So, Nick became an anti-Adam figure. He sensed the rebound nature of Sally's choice and gave her the freedom to return to Adam.
Y&R Spoilers – Sally Spectra Made Her Choice
There was no denying that Sally fell for Adam and saw him as a major part of her future. Even the cavort they shared, during a period in the plot when she and Nick decided not to see each other, projected Sally's continued feelings for Adam.
The anticipation of Ava Hope's arrival seemed to provide a path that would lead Sally and Adam back together. But the miscarriage of the daughter they were expecting created a break in their restored connection.
Sally never intended to leave Nick, even though Adam was Ava Hope's father. So, it seemed like the miscarriage meant Sally's time with Adam was over.
READ THIS: Find out what happens next on The Young and The Restless.
The Young And The Restless Spoilers – Adam Newman Creating Trouble
Adam just announced that he is seeking redemption. Sally is giving him the benefit of the doubt which creates a challenging decision.
Nick will be angered if Sally tells him about the kiss. But if she withholds that information then she will have no plausible explanation to offer when Nick inevitably learns what happened.
Adam is drawn to Sally, and she remains fond of him. Whether she still loves him or can fall in love with Adam again are open questions on Y&R.
This site is a leading source for everything linked to The Young and the Restless. Check back regularly for Y&R spoilers and news!
For more about what's happening on your favorite soaps and more ways to connect with us, join the conversation on our Facebook Page, check out our Twitter feed, look for an update on our Instagram, follow us on Threads , Always stay up-to-date with us on Google News, or drop us an e-mail HERE! See you there!