Days Of Our Lives Spoilers: Chloe Leaves Salem After Another Heartbreak!
Days of Our Lives spoilers tease that Dr. Sarah Horton (Linsey Godfrey) will likely be back in Salem very soon. As viewers know, Sarah left town to take a job with Dr. Rex Brady (Kyle Lowder) in Chicago.
But before she left, Sarah found out she was pregnant. Knowing the child was Xander Cook's (Paul Tefler), Sarah chose not to tell Xander and Rex said he would claim the baby as his own.
But if Sarah comes back, either right before she has the baby or right after, Xander is bound to have questions. And those questions could very easily lead Chloe Lane (Nadia Bjorlin) to leave Salem once and for all.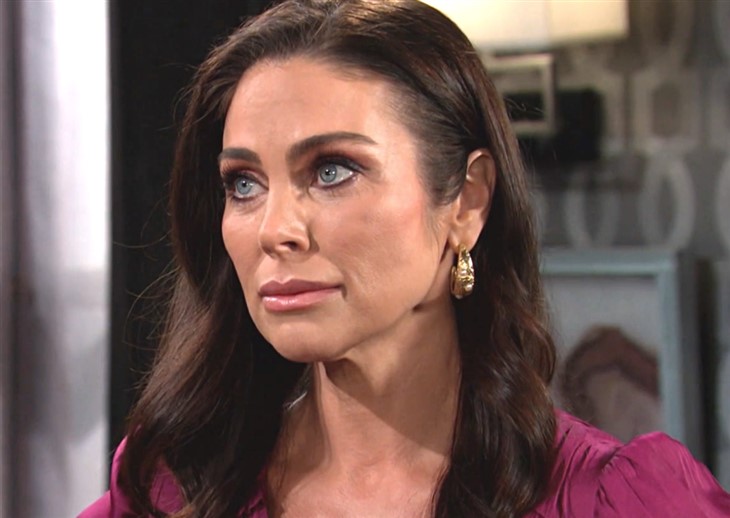 Days Of Our Lives Spoilers – Xander Cook Was Married To Dr. Sarah Horton!
Xander and Sarah had just gotten married when Xander decided to take an illegal job working for Ava Vitale (Tamara Braun). Xander had problems finding a legitimate job and he needed money to support his new wife, so he agreed.
But Sarah eventually discovered that Xander kidnapped Susan Banks (Stacey Haiduk) for Ava and after much debate, Sarah decided to divorce Xander.
It was only after the divorce was finalized that Sarah discovered she was pregnant. Sarah opted not to tell Xander and went ahead with her plans to move to Chicago with Rex. Since then, Xander has found love and romance with Chloe.
DOOL Spoilers – Chloe Lane Has Suffered Many Heartbreaks In Salem!
Chloe has had terrible luck when it comes to romance in Salem. She's had relationships with Lucas Horton (Bryan Datillo), Phillip Kiriakis (John-Paul Lavoisier), Brady Black (Eric Martsolf) and Stefan DiMera (Brandon Barash) in the last few years and they have all ended in disaster.
If the news about Sarah's pregnancy ends her new relationship with Xander, Chloe might easily decide to make a pretty bold choice. One that could take her out of Salem permanently!
Days Of Our Lives Spoilers – Chloe Lane Might Exit Stage Left From Salem!
If her relationship with Xander implodes, it could easily make Chloe take a good, hard look at her life in Salem. None of her romances have worked out and pretty much everyone in Salem knows each other.
Perhaps Chloe will decide it's time for a fresh start. Maybe an opportunity to pursue her first love, opera, will come up.
Chloe's chances of finding a lasting and loving relationship in Salem seems unlikely at this point. A brand-new start and a possible new career could be the best thing for Chloe moving forward.
What do you think?
Will Xander immediately seek to reconcile with Sarah? Where does that leave Chloe?? Is it time for Chloe to make a new start elsewhere?
Anything can happen in Salem so stay tuned to Days of Our Lives streaming every weekday on Peacock. And don't forget to check back right here regularly for all your Days of Our Lives news, information and spoilers!