Days Of Our Lives Spoilers: Dimitri's Honeymoon Troubles, Gwen's Discovery-From Niagara To Viagra?
Days of Our Lives spoilers and updates tease that Dimitri Von Leuschner's (Peter Porte) honeymoon won't go as planned, and Gwen Rizczech Von Leuschner (Emily O'Brien) will discover something. Could it be that Dimitri dropped a bottle of little blue pills, and the lack of taking one rendered him not able to function with a woman?
Days Of Our Lives Spoilers – Surprise, Surprise, Surprise
Gwen would be shocked to find that Dimitri can't "rise to the occasion" now that they are married, when he could before they were married! It would make no sense to her and she might think he needs a talk with Marlena Evans (Deidre Hall) to get therapy for Madonna-whore complex! She hasn't made the discovery yet that her husband is the hot gay guy her best friend Leo Stark (Greg Rikaart) is involved with, and neither wants her to.
Dimitri cares about Gwen-and he was able to sweep her off her feet and make mad passionate love to her before they got married. But he had a little blue pill to help him, because women don't trip his trigger-not even her, but Leo does; and neither want to hurt her.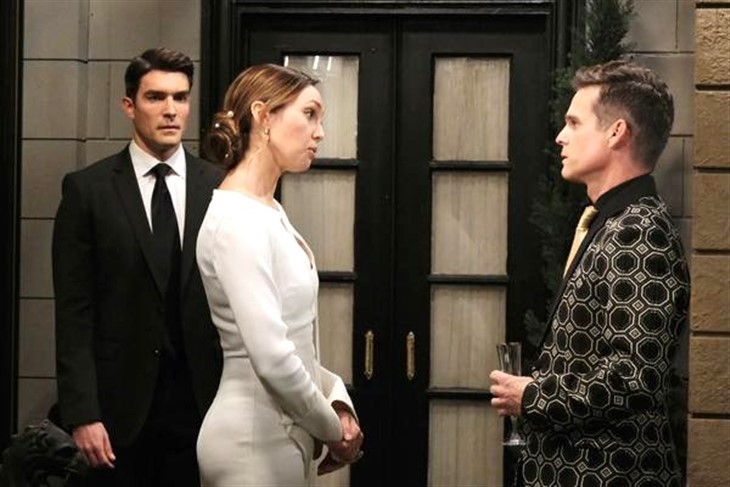 DOOL Spoilers – Dimitri Von Leuschner Makes Excuses
Realizing that his little pharmaceutical helper must have fallen out of his shaving kit, Dimitri tries but fails, and makes excuses that he's hurt his back. Gwen offers to do "the heavy lifting" but he tells her maybe he needs to rest and relax his back and things will work better later.
She asks about pain relievers and gets a weird vibe when he claims he would never take a pill; not even an aspirin, and offers massage. Dimitri does accept her massage offer but hopes she'll tire quickly and go to sleep, hoping to get a chance to try and get another prescription.
Days Of Our Lives Spoilers – A Discovery Is Made
However, it's Dimitri who falls asleep as Gwen is massaging his back and helping his muscles to relax-she's a very good masseuse. As she goes to the bathroom afterwards, she spies a bottle of pills on the floor and discovers they're for erectile dysfunction! Her eyes bug out and she's practically in shock that Dimitri's had to have that kind of help possibly all along.
She knows better than to assume it's a psychological problem causing the ED, but she's certainly shocked. She decides to discreetly put the pill bottle where he'll see it when he first gets up out of bed-never dreaming her honeymoon would go from Niagara to Viagra!
Be sure to catch up on everything happening with DOOL right now. Come back here often for Days Of Our Lives spoilers, news, and updates.