Days of Our Lives Spoilers Friday, Sept 8: Hope Figures Out Hattie's Ruse – Andre Gets a Shock at the Sanitarium – Sheila Becomes Adrienne's Ally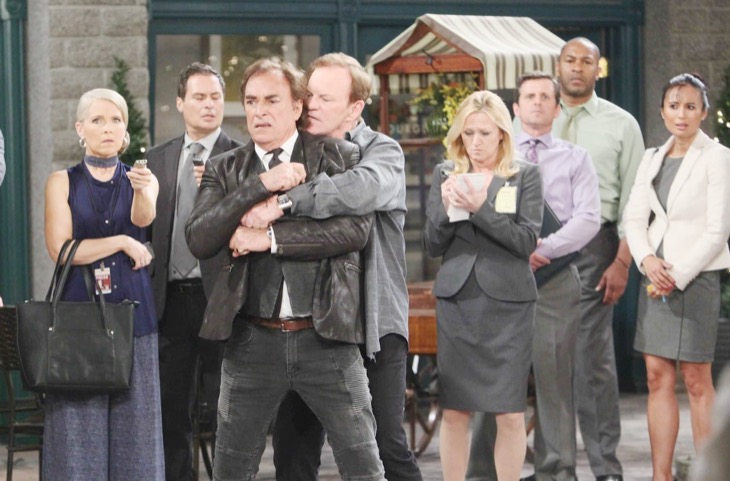 "Days of Our Lives" spoilers for Friday, September 8, tease that Andre (Thaao Penghlis) will be shocked by his sudden change of luck. He thought everything was going his way, but he was obviously wrong about that. Thanks to his own sneakiness and Hattie's (Deidre Hall) revenge, Andre will find himself stuck at the sanitarium. He'll struggle in a straitjacket as he's locked up in a padded cell.
While Andre's at Bayview, he'll see a couple of familiar faces. John (Drake Hogestyn) and Marlena's (Deidre Hall) predicament will lead to some confusion. "Days of Our Lives" spoilers say Andre won't be sure what to make of their presence. He'll worry that they're trying to mess with his head and make him question his own sanity.
Andre will get everything sorted out sooner or later, but he might as well settle in for now. Hattie still needs to be exposed before Andre's jam can be cleared up. "Days" spoilers indicate that Paul (Christopher Sean) will try to uncover the truth. He'll tell Hope (Kristian Alfonso) that she needs to have a chat with "Marlena."
Paul will suspect that Hope's going to feel the same way he does about the lying shrink. Something's off about "Marlena" and Paul's starting to think it's her identity. Once Hope meets up with "Marlena" and asks a few questions, she'll definitely reach that conclusion. Hope could spot her old pal Hattie from a mile away.
Of course, things won't be as friendly between them this time around. Hattie was a great ally at Statesville, but now Hope has to be in cop mode. She'll insist that Hattie needs to come clean and tell her where her victims are.
At the Kiriakis mansion, Bonnie (Judi Evans) will begin the next phase of her plot. DOOL fans know that Bonnie plans to making Maggie's (Suzanne Rogers) life miserable. She intends on using Victor (John Aniston), but she'll have to be smart about it. The last thing Bonnie wants to do is get caught.
"Days of Our Lives" spoilers hint that Bonnie will make a daring move on Friday. She'll be pleased by the progress she's making. In the slammer, Adrienne will manage to get Sheila (Tionne "T-Boz" Watkins) on her side. They'll reach an agreement, but don't expect Sheila to play by the rules!
It sounds like some hot drama's brewing. We'll give you updates as other "Days" news and rumors emerge. Stay tuned to DOOL and don't forget to check Soap Opera Spy often for the latest "Days of Our Lives" spoilers, rumors, updates and news.