Days of Our Lives Spoilers Friday September 14: Emotional Marlena Goodbye, Rafe's Bold Move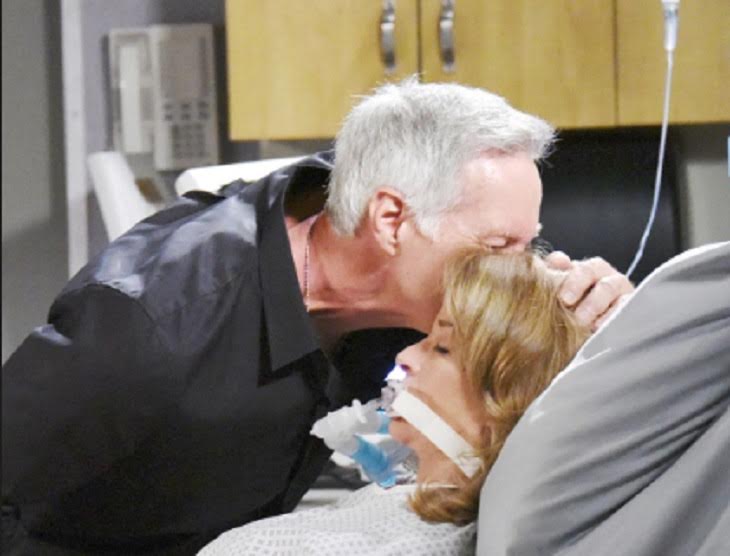 Days of Our Lives' Kayla (Mary Beth Evans) has told the board about Marlena's (Deidre Hall) living will.
The board has ruled against John (Drake Hogestyn) and decided to turn off the ventilator. Marlena's loved ones have believed she is in a permanent coma. As the ventilator gets removed, Marlena's loved ones will gather to say goodbye.
John isn't happy with neither Belle (Martha Madison) nor Sami (Alison Sweeney). John blames both daughters for this mess. John isn't likely to want either of them at the hospital at all.
Against his better judgment, Rafe breaks the rules to help Sami.
Days of Our Lives' Rafe (Galen Gering) has bent over backward to help Sami. After her assault and escape, Rafe will go against his better judgment and help Sami. It seems that Rafe and Sami will go to the hospital to see Marlena one last time. Will Rafe be in the more hot water with Hope (Kristian Alfonso) over this? Hope already thinks Rafe is choosing Sami over her. It is likely that Hope and Rafe will undoubtedly clash again.
Hope tells Ben, Ciara, and Tripp new evidence has come to light which implicates Ben.
Marlena is walking back down the aisle, and @EW has the first look! https://t.co/o2PLc8ClrT @nbcdays #DaysOfOurLives pic.twitter.com/kTdJdwLKsM

— Lynette Rice (@Lynetterice) August 22, 2018
Days Of Our Lives' Hope shows up at the loft to arrest Ben (Robert Scott Wilson). According to Hope, new evidence has surfaced that implicates Ben in the cabin fire. The fire investigators already cleared Ben, so From where does this evidence come?
Is Ben truly guilty? Marlena isn't around to testify on Ben's behalf, who will end up saving him this time? Will Ciara (Victoria Konefal) continue to believe Ben after this evidence surfaces? Hope is likely to lose her daughter altogether.
Ciara has warned her to back off Ben or else. Ben relies on Ciara for support. Ben even fixed Ciara's bike as a thank you. Ben makes a stunning accusation against Hope.
Days Of Our Lives' Ben will accuse Hope of planting evidence against him. Unfortunately, Ben was cleared of any wrongdoing and set free. Where did this sudden evidence surface? In Ben's eyes, it is trumped-up evidence against him.
Ben knows that even after hypnosis, he didn't remember starting the fire. Ben would never hurt Ciara that way. Hope, on the other hand, wants Ben gone and will do whatever she has to do to achieve that. Is Ben on the right track? Will Ciara believe Hope or Ben?
Chances are Ciara will cut ties with her mother over this stunt. Will Ciara realize the truth before Ben goes to prison or the mental hospital?
Read more Celebrating the Soaps news, spoilers, and gossip on our Days Of Our Lives homepage