Days Of Our Lives Spoilers Friday, September 8: Vivian Returns, Funeral Crashed, Baby Delivery, Joseph's Secret
Days of Our Lives spoilers for Friday, September 8, 2023, reveal that Victor Kiriakis' (John Aniston) funeral is crashed. The shocking funeral crasher is none other than Vivian Alamain (Louise Sorel).
Meanwhile, Sarah Horton (Linsey Godfrey) goes into labor. Plus, John Black (Drake Hogestyn) learns a secret about Joseph Bell (Dick Van Dyke). Keep reading to find out what is coming up in the Peacock soap opera.
Days of our Lives Spoilers Highlights
DOOL spoilers for Friday, September 8 reveal that Salem will still be mourning Victor. While loved ones gather for Victor's funeral, it will be rocked by an unexpected event crasher. This is confirmed to be none other than super-villainess Vivian Alamain.
DOOL Spoilers – Vivian Alamain Returns
On Friday, September 8, Vivian will be the one to crash Victor's funeral. Soap Opera Digest magazine teased that Justin Kiriakis (Wally Kurth) will investigate Vivian's claim.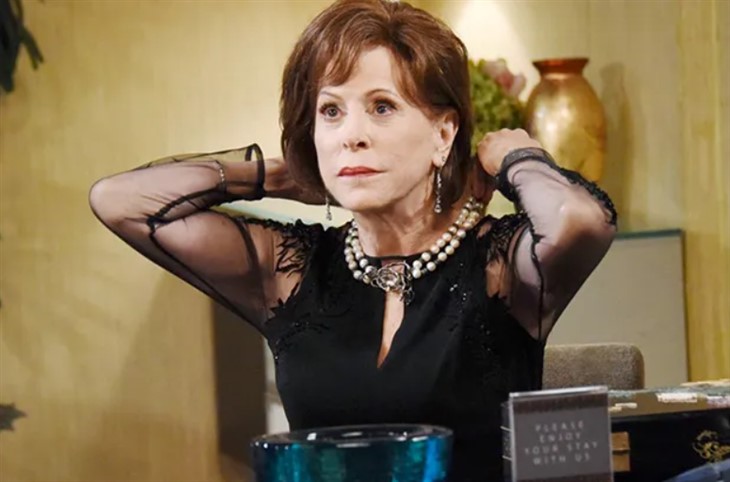 So, it sounds like Vivian might claim she has rights to Victor's estate. Vivian might also battle Maggie Horton Kiriakis (Suzanne Rogers) over the will.
People magazine published a photo of Vivian. Standing right next to Vivian is Stefan DiMera (Brandon Barash). Stefan appears as if his arm is about to wrap around Vivian's waist.
Then, Dimitri von Leuschner (Peter Porte) and Kristen DiM (Stacy Haiduk) stand together by the living room's entrance. On the other side of the room is Maggie, who has her face buried in her hands.
Days Of Our Lives Spoilers – Sarah Horton's Baby Delivery
Days of Our Lives spoilers for Friday, September 8 reveal that Sarah will go into labor. However, Sarah's life will end up being in danger. Will Maggie tell Xander Cook Kiriakis (Paul Telfer) the truth about Sarah's baby?
Will Rex Brady (Kyle Lowder) make the confession when Sarah's life hangs in the balance? How will Sarah react to her secret being exposed?
READ THIS: Find out what happens next on Days Of Our Lives.
DOOL Spoilers – Friday, September 8
On Friday, September 8, fans can also expect to learn more information about Joseph. It is teased that John discovers a secret about Joseph. Is this a good secret or could it complicate Joseph's future?
It's possible that Joseph might be hiding from someone or something. Of course, Joseph's secret might have something to do with his son, too.
Which storyline are you looking forward to seeing the most on Friday, September 8? What are your predictions for Joseph, John, Marlena, Kayla and Steve?
What does the future hold for Maggie, Vivian, Stefan, Dimitri, Kristen and the rest of the Salemites? Share your thoughts in the comment section below. Remember to keep watching the soap on Peacock to find out what happens next.
Be sure to catch up on everything happening with DOOL right now. Come back often for Days of Our Lives spoilers, news, and updates.