Days Of Our Lives Spoilers: Kate's Victory Shows Resilience And Survivorship
Days of Our Lives spoilers indicate that Kate Brady's (Lauren Koslow) victory over Dimitri Von Leushner (Pete Porte) shows her resilience and survivorship. Not everyone could have withstood what Kate has been through in the past few months.
Days Of Our Lives Spoilers – Kate Brady Does Not Quit
Days Of Our Lives spoilers reveal that Kate was determined to get in touch with Roman Brady (Josh Taylor) at all costs. Kate tackles a deadly henchman to get an audience with her captor after trying to call Roman failed. Kate might not have gotten through to Roman or gotten free on her own but she sure made it easier to find her.
Kate can be quite exasperating in some instances, like when she wanted her wedding rings back. Kate insisted on going after her rings so that Roman could put them back on her finger where they belong. Both Steve Johnson (Stephen Nichols) and Chad Dimera (Billy Flynn) were a bit annoyed with having to go back for more abuse just to get the rings.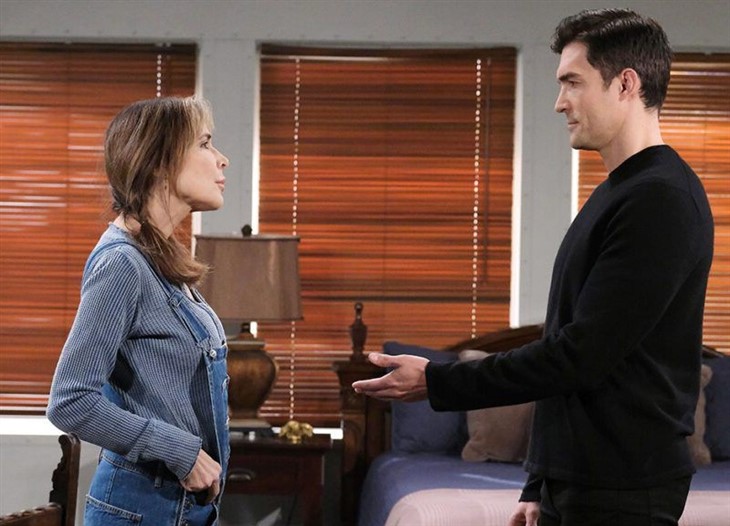 DOOL Spoilers – Kate Brady Worries About Her Husband
Kate was very concerned about Roman and everything he had been through in her absence. Roman even went out of town to scatter what he believed was Kate's ashes while Megan Hathaway (Miranda Wilson) her on that island. Roman thought he had seen the last of not only Kate's rings but Kate herself as well.
Roman returned home to be told that Kate was alive but had been killed by his own brother, the believed dead Bo Brady (Peter Reckell). Roman then got another shock when he realized that Bo had turned Kate loose and allowed Megan to believe she was dead. Now they are reunited and Kate doesn't plan to ever let Roman go again.
Days Of Our Lives Spoilers – Roman Brady Is Thrilled That Kate Brady Is Home
Roman and Kate are thrilled to be reunited, however, Bo's lack of progress puts a damper on some of his joy. Kate feels this as well because she would be dead if not for Bo. Kate hoped to come home and find out that Bo was back to his old self and reunited with Hope Brady (Kristian Alfonso). Unfortunately, she came home to learn that Shawn Brady (Brandon Beemer) had almost killed him.
Kate is very happy to be back with Roman where she belongs but she also would love to see that Kayla Johnson (Mary Beth Evans) and Marlena Evans (Deidre Hall) are ok. Will these three ladies be closer now that they have been through this ordeal together? Will Kate be all right when Vivian Alamain (Louise Sorel), her arch-enemy comes back to town?
Be sure to catch up on everything happening with DOOL right now. Come back here often for Days Of Our Lives spoilers, news, and updates.