Days Of Our Lives Spoilers: Li's Long Term Plan – Brainwashing Gabi?
Days of Our Lives spoilers and rumors tease that Li Shin's (Remington Hoffman) long term plan to keep Gabi Hernandez (Camila Banus) from divorcing him might have an extra jolt. Since Dr. Wilhelm Rolf (Richard Wharton) may no longer want to do it, he may have to find someone else to brainwash Gabi into loving him.
Days Of Our Lives Spoilers – Help From The Prism Project Lady?
Li knows that Rolf isn't the only one with a lab and technology that knows how to resurrect people, keep them in stasis and brainwash them. If Gabi won't fall in love with him willingly, at least she can't be legally compelled to testify against him over Stefan DiMera's (Brandon Barash) brainwashing. Days of Our Lives spoilers show Kristen DiMera (Stacy Haiduk) is also in jail but there's another DiMera sister with a lab and secret projects-the prism project lady.
Could Li make a deal with Megan Hathaway (Miranda Wilson) to brainwash Gabi into loving him if he shares the technology needed? Rolf's not the only game in DiMera town, and she would find it very valuable to help regain the heart of her own lost love, Bo Brady (Peter Reckell)!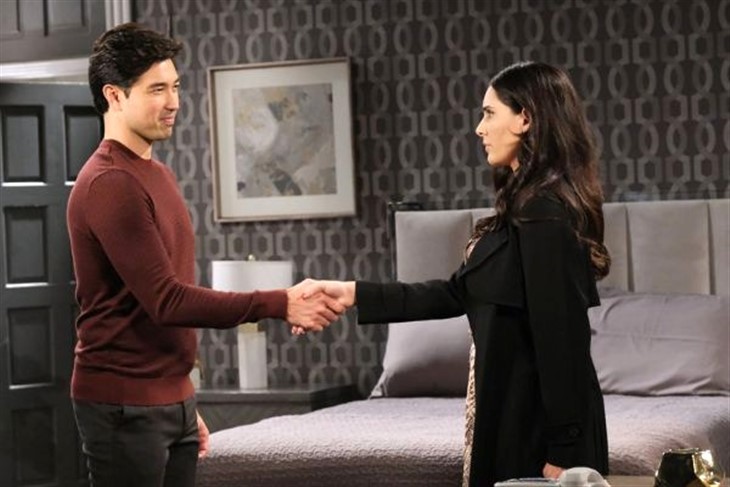 DOOL Spoilers – Brainwashing A Resurrected Person Is Not A Problem
Li contacts Megan, who he knows of from the prism project in Hong Kong he participated in last summer, and tells her the resurrection and brainwashing of Stefan. It was a very similar situation to Bo, because Stefan loved Chloe before he loved Gabi, and Bo loved Megan before he loved Hope Brady (Kristian Alfonso). They were high school sweethearts and both men were resurrected after being kept alive by artificial means – Stefan with an artificial heart and Bo in a stasis pod. Li will tell in detail how Rolf brainwashed Stefan to forget Gabi and remember Chloe and restore his feelings if she'll agree to brainwash Gabi to forget Stefan and love him.
Days Of Our Lives Spoilers – Megan Hathaway Jumps At The Chance
Megan jumps at the chance to brainwash Bo's love for Hope and anyone else right out of him and only have feelings for her. It's the perfect exchange, and Li knows where Rolf's machines are in Jakarta, Indonesia-they must move quickly to obtain them with Rolf out of jail. She agrees wholeheartedly to Li's deal and she'll take anything Rolf has in that lab, which was locked up when Rolf was extradited and arrested.
After all, it's all DiMera owned anyway, and Rolf once upon a time was one of Stefano DiMera's (Joseph Mascolo) most trusted henchmen. She frankly doesn't understand his disloyalty and his agreeing to brainwash a son of the Phoenix..until she learns that fake DiMera daughter Kristen was behind it!
Be sure to catch up on everything happening with DOOL right now. Come back here often for Days Of Our Lives spoilers, news, and updates.