Jim Bob And Michelle Duggar React To Daughter Jinger's 'Cult' Complaints In Memoir!
Michelle Duggar and Jim Bob Duggar held off on reacting to their daughter Jinger's tell-all book at first. But now insiders have shared how the couple made famous on 19 Kids And Counting feel about their daughter's revelations. And their reaction includes embarrassment.
Find out what sources shared about the Duggar matriarch and patriarch's feelings toward Jinger's memoir. And learn what upsets Michelle and Jim Bob the most. Get all the details below.
'19 Kids' – Couple React To Daughter's Tell-All
Jinger Vuolo (neé Duggar) used her new book to discuss her experiences growing up as the daughter of 19 Kids And Counting stars Michelle and Jim Bob Duggar. And in her memoir, Becoming Free Indeed, Jinger challenged the rigid rules she faced. For instance, the mother of two daughters shared that she felt the "cult-like" Institute in Basic Life Principles (IBLP) made her suffer from anxiety, according to OK magazine.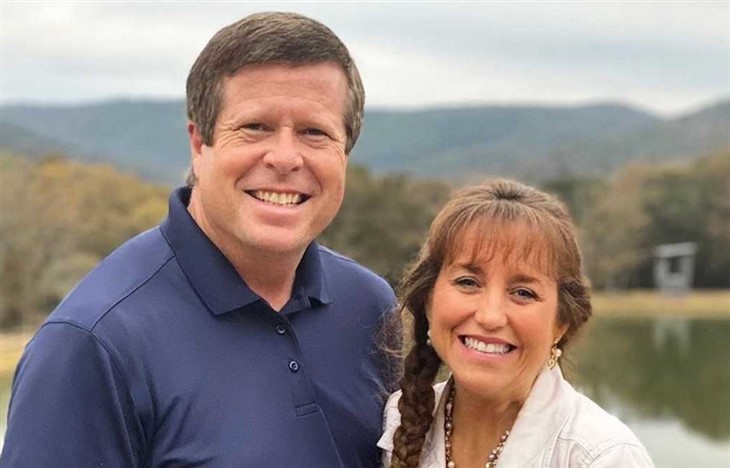 Published late last month, Becoming Free Indeed at first received no response from Jinger's parents Michelle and Jim Bob. But insiders revealed that her parents did read the book. And the couple feels "embarrassed" by what Jinger revealed, shared one source.
Jinger, who co-parents her daughters 4-year-old Felicity and 2-year-old Evangeline with husband Jeremy Vuolo, described her emotional struggles during her teen years. And the mom of two blamed the religious sect's values for her extreme levels of anxiety. However, Michelle and Jim Bob feel so upset about Jinger slamming the IBLP instructions that they plan to prevent their younger kids from reading the book.
Duggar – Parents Follow IBLP Teachings
Known as a non-denominational Christian organization, IBLP puts the emphasis on extremely rigid rules. For instance, the religious sect's founder Bill Gothard believes in trusting the exact wording in the Bible. And Gothard insists that men should head up the household with assistance from their submissive wives. Other rules include chastity before marriage and exceptionally modest clothing.
Sins according to IBLP range from dancing to certain categories of music. However, Jinger used her memoir to challenge the religious sect. And beyond that, the 29-year-old mom of two criticized the teachings.
Jinger Duggar Vuolo of "17 Kids and Counting" has become a powerful voice in a trend of young adults re-examining their own conservative Christian upbringings. In a new memoir, she recounted a childhood defined by cycles of anxiety, exhaustion and guilt. https://t.co/MSmhBGG9wN pic.twitter.com/H36qeJRvoO

— The New York Times (@nytimes) February 11, 2023
"[Gothard's] teachings in a nutshell are based on fear and superstition," shared Jinger. And she feels that the rules "leave you in a place where you feel like, 'I don't know what God expects of me.' The fear kept me crippled with anxiety. I was terrified of the outside world."
And Jinger admitted that she continues to feel fearful about disobeying God's will. For example, Jeremy's wife described worrying that disobedience could cause her to "be killed in a car accident [because she] didn't know if God wanted me to stay home and read my Bible." As a result, even planning to go out and have fun with friends could make her feel anxious.
Tell us what you think. How do you feel about Jim Bob and Michelle Duggar feeling humiliated by their daughter Jinger's tell-all memoir? And after you share your views, check back on our site for more reality TV news.