Days of Our Lives Spoilers Friday, February 15: Chabby Reunited – Abigail Forgives Chad, Ted Kisses Hope!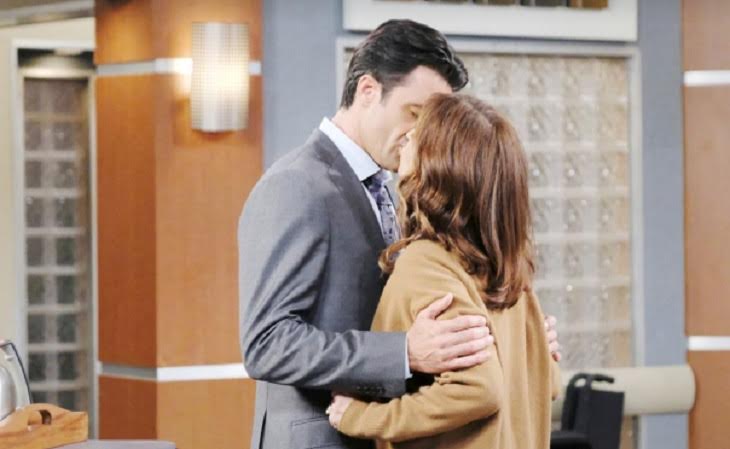 Days of Our Lives (DOOL) spoilers for Friday, February 15, 2019, reveals Abby (Kate Mansi) has found it hard to forgive Chad (Billy Flynn) for having her committed and taking away her child.
Days of Our Lives – Abigail Finally Forgives Chad
When Jordan (Chrishell Stause) kidnapped Charlotte (Matilda Hanna and Chloe Teperman), Chad promised to put her baby back in her arms. Chad has made good on his promise and gotten their daughter back. Chad personally placed Charlotte in Abby's arms even working with Ben to do so. After seeing what Chad was willing to do to make things right, Abby will forgive him, and they will reunite.
Days of Our Lives Spoilers – Ciara And Ben Are Reunited
Days of Our Lives Ben (Robert Scott Wilson) managed to save Ciara (Victoria Konefal) from the fire that Jordan had set to kill her. Hope (Kristian Alfonso) still believes Ben is responsible and has ordered Ben away from Ciara. However, Ciara knows that Ben didn't hurt her and Jordan admitted to starting the fire that almost killed Ciara before.
Ciara has no intention of letting Hope come between herself and Ben again. Will Ciara convince Hope that Ben did nothing wrong and she would have died if he hadn't saved her again? Will Hope finally get the hint that Ben doesn't pose a danger to Ciara?
In the latest #DAYS, it's Valentine's Day in Salem and everyone is feeling the love!https://t.co/ZsCmioRrzb pic.twitter.com/9wHeTBJeBU

— Days of our Lives (@nbcdays) February 14, 2019
Days of Our Lives – Ted Kisses Hope
Days of Our Lives' Ted's (Gilles Marini) attraction for Hope has existed for some time. Hope is upset over everything that has happened with Ciara's kidnapping and reunion with Ben. Rafe is at the hospital with Kate and not there to comfort Hope. Ted will take advantage of this and kiss Hope.
Will Hope be okay with Ted's advances or will she stay true to her wedding vows? Will Hope find out why Rafe isn't with her and go to the hospital to investigate Kate's apparent overdose or will she cheat with Ted?
DOOL Spoilers – Rex Encounters A Distraught Jordan
Days of Our Lives' Rex (Kyle Lowder) will encounter a distraught Jordan who believes she is the reason her brother Ben got killed. Jordan believes that Chad shot Ben to protect himself. Jordan also knows Ben would not have been on the run if she hadn't set him up. Will the police catch up to Jordan before she can leave town again or kidnap someone else? Will Jordan's illness go a step further and become a serial killer herself? Will Jordan get Ben put away after all?
Read more Celebrating the Soaps news, spoilers, and gossip on our Days Of Our Lives homepage