Days Of Our Lives Spoilers: Nicole Walker's Baby Secret Creates Drama For Anna DiMera
Days of Our Lives (DOOL) spoilers suggest that Nicole Walker (Arianne Zucker) will continue to hide the fact that she's pregnant for as long as she can. While she has some more weeks until she won't be able to keep it covered any longer; for the time being, she'll lie her way out of every situation she's in. From the looks of it, when the truth comes out, she won't only be hurting herself, but she may also be hurting her number one confidant, Anna DiMera (Leann Hunley).
Days Of Our Lives Spoilers – Nicole Walker's Secret May Stay Hidden For A While, Despite Others Knowing
Days spoilers suggest that Sloan Petersen (Jessica Serfaty) may soon find out that Nicole is expecting. As Walker just wants to figure out who the baby's daddy is before she announces things, and is waiting to get a DNA test, there's a good chance the lawyer may stay hush-hush about it. After all, why get Eric Brady (Greg Vaughan) all riled up by telling him if the child does not end up being his, right?
Meanwhile, Kayla Johnson (Mary Beth Evans) also knows about Nicole's bun in the oven, but she's Walker's doctor. There's no way Johnson will blab to anyone due to doctor-patient confidentiality.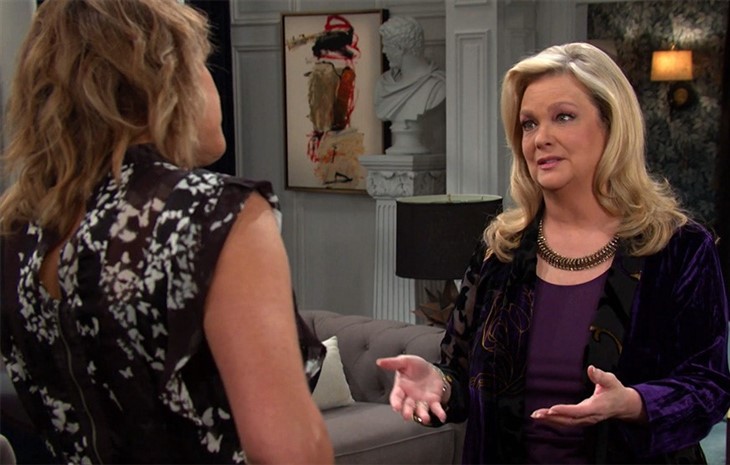 DOOL Spoilers – Could This Cause Issues In Anna DiMera's Romance?
DOOL spoilers for the week of May 22nd imply that Nicole's baby secret will have Anna lying to her husband Tony DiMera (Thaao Penghlis). This doesn't sound good!
While "others" know/will know about Nicole's pregnancy, Anna has become a confidant of sorts to Nicole. She's someone Ms. Walker can turn to, to vent, and confide in her fears; give an ear to listen to and a shoulder to lean on. Still, when the truth comes out about Nicole's pregnancy, and the fact that Anna knew all along, could this cause drama in Anna and Tony's romance? Will Mr. DiMera be upset with his wife for not sharing?
Will Nicole's secret cause issues for Anna? Share your thoughts, below! Tune into DOOL daily on Peacock to see what happens next and visit this site for all the best Days news and spoilers.