Days Of Our Lives Spoilers: Paulina & Abe Carver In Danger, Colin Bedford Goes On Violent Spree
Days of Our Lives (DOOL) spoilers suggest that Colin Bedford (Jasper Newman) won't shake his need for revenge against Paulina Price (Jackée Harry) and Chanel Dupree (Raven Bowens). While his girlfriend Talia Hunter (Aketra Sevillian) has helped carry out his plans, she's done so quite reluctantly.
She's getting to know the mother-daughter duo and is starting to realize that they aren't as bad as Colin has painted them out to be. She hates seeing Dupree and Price suffer, so if Ms. Hunter resists any more schemes, could Bedford take matters into his own hands?
Days Of Our Lives – Paulina Price & Abe Carver Are Placed In A Dire Situation
Days spoilers for the week of May 15th reveal that Abe Carver (James Reynolds) and Paulina will be in a scary situation. Added teasers hint that the Carvers could be in horrible danger, so it's quite likely that Colin is behind it all.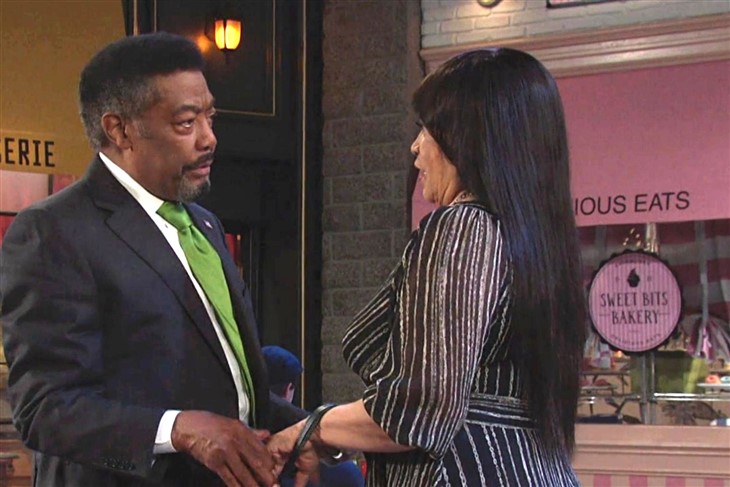 If Talia refuses to do his bidding anymore, Bedford could take drastic measures. He seems a tad unhinged, and by the way he and Ms. Hunter interact, it looks like Talia is constantly trying to keep him happy so that she can keep him "calm". If she refuses to help him bring down Dupree and Ms. Price, he could get so upset that he decides to turn to violence.
DOOL Spoilers – Will Colin Kidnap Abe Carver & Paulina Price… Or Someone Else?
DOOL spoilers note that Colin will end up with a hostage soon. Could this be Abe and Paulina? Meanwhile, other teasers state that Eric Brady (Greg Vaughan) will learn his girlfriend's bother is in town, and get curious about him, so Eric may stumble upon Bedford scheming something against Paulina and Abe and become the one who is held, hostage. Either way, it looks like Colin's plan will climax very soon in the land of Salem, and this could lead to dire consequences for others involved in this storyline.
Who will suffer Colin's explosive wrath? Should Paulina and Abe (or even Eric) be worried? Comment, below. Don't forget to watch Days on Peacock daily to see what happens next and visit SOS for the most up-to-date Days news and spoilers.