Days Of Our Lives Spoilers: Rachel Black Becomes A Mini-Me Version Of Her Mom
Days of Our Lives (DOOL) spoilers hint that Rachel Black (Finlay Rose Slater) could become a thorn in the side Brady Black (Eric Martsolf) and Chloe Lane (Nadia Bjorlin), as the two work on a reunion. Just recently, Rachel had a freakout when Chloe was around, and both Brady and her grandfather John Black (Drake Hogestyn) had to talk her down.
Both Stefan DiMera (Brandon Barash) and Kristen DiMera (Stacy Haiduk) are officially out of this picture, and the super couple can finally be together. But will Rachel prove to be a mini version of her mother, and keep them apart?
Days Of Our Lives Spoilers – Will Rachel Black Start To Scheme Like Her Mom?
Days spoilers tease trouble on the horizon for Chloe and Brady in the form of Rachel. While the young girl has spent most of her life with her dad, she's always shared a special bond with her mom. In fact, the two got very close during Kristen's last run in Salem. Before, Chloe and the little girl got along quite well. However, Kristen worked overtime to manipulate Rachel into believing that DiMera should be with her dad to reunite them as a family.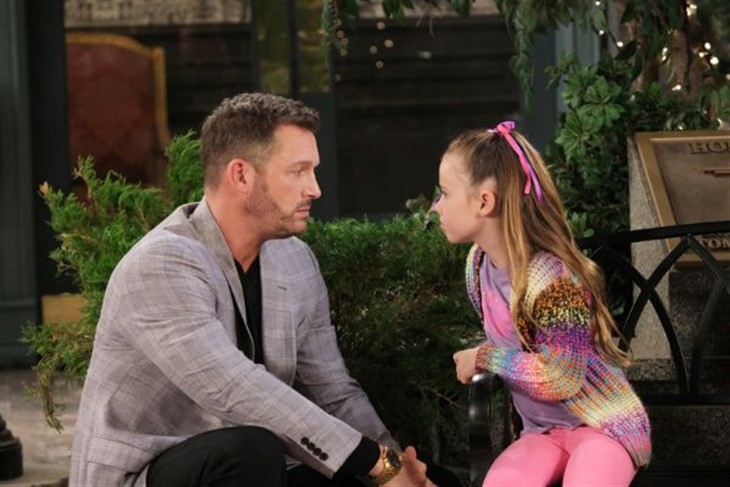 Rachel is clearly displeased with having Chloe around now, despite the fact that the two were on great terms not too long ago. Meltdowns in Horton Square are one thing, but could Rachel start purposely scheming to keep Lane away from her dad?
DOOL Spoilers – Rachel Black Is Sweet, Smart, & Resourceful
It's undeniable that Rachel is a cute, sweet, and very smart little girl. She's able to articulate her feelings well, despite her age. Could she also become crafty in plotting up ways to keep Chloe and Brady apart? From faking an illness to possibly "telling on" Lane if Chloe's slipped up and done or said something inappropriate, Rachel may do all she can to stop the Chloe and Brady romantic reunion dead in its tracks. After all, it would be exactly what her mommy wants.
Will Rachel eventually warm up to Chloe again, or should Lane watch her back? She is Kristen's offspring, after all! Have your say and leave a comment, below. Don't miss an episode of your favorite Peacock soap, and be sure to visit this site for the latest Days spoilers, news, and updates.