Days Of Our Lives Spoilers: Sloan Petersen's Next Scheme … To Get Pregnant?
Days of Our Lives (DOOL) spoilers hint that Sloan Petersen (Jessica Serfaty) will do just about anything to keep Eric Brady (Greg Vaughan) in her life. She recently took one for the team by submitting a DNA swab of her own saliva, instead of Eric's, so that when Nicole Walker (Arianne Zucker) tested it, the results would guarantee her baby wasn't Mr. Brady's. So, how far will Sloan go to keep Eric around?
Days Of Our Lives Spoilers – Eric Brady Wants A Child In His Life
While pretty much all of his siblings have children, for one reason or another, Eric hasn't become a father yet. He was quite excited when he found out that Jada Hunter (Elia Cantu) was pregnant, and equally as devastated when he learned she terminated her pregnancy. Eric was also visibly disappointed when the DNA tests concluded that he wasn't a match for Nicole's baby (Walker seemed a tad sad, too, although she did try to hide it).
If Sloan comes to realize that having a baby with Eric would guarantee the two would be linked together forever, would she cross a line to do so?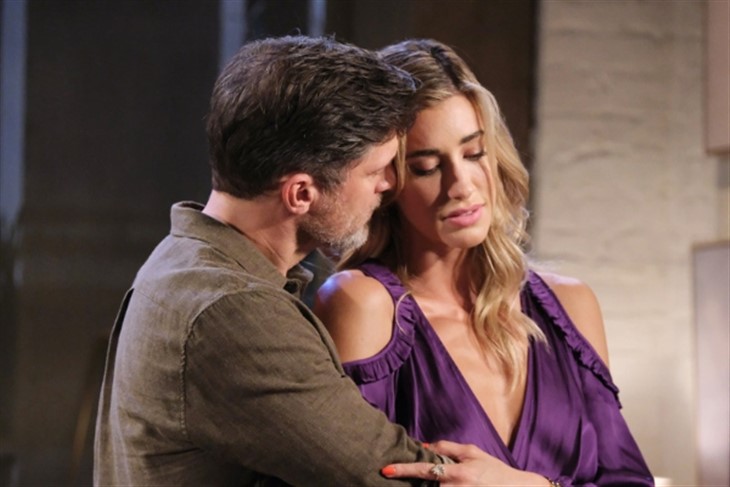 Days Spoilers – It's Not The Logical "Next Step", But Would Sloan Care?
These two just recently expressed their "I love you's" to one another. While Sloan has made progress in becoming a "better" person since she met Eric, the truth is, she's still a big-time schemer and tends to go the "lying" route before honesty.
She may bring up the idea of having a baby to Eric, and he may shut her down because it is too soon for them to plan such a major life event. If she feels as if Mr. Brady wouldn't be open to a baby the honest way, she could decide to take matters into her own hands and do it "her way". But would she be successful?
Could Sloan try and give Eric a baby? Will that be her next plan of action? Leave a comment below. Watch the Peacock soap daily to see what happens next and visit this site often for the latest Days of Our Lives spoilers, news, and updates.