Days Of Our Lives Spoilers: EJ Is Nicole's Baby Daddy – Or Is He?
Days of Our Lives spoilers reveal Nicole learning who got her pregnant at this later stage in her life. Nicole Walker (Arianne Zucker) did everything she could to ensure that neither Eric Brady (Greg Vaughan) nor EJ DiMera (Daniel Feuerriegel) would learn she was pregnant before she could learn which man was responsible for this pregnancy but it didn't work out thanks to Sloan Petersen (Jessica Serfaty).
Days Of Our Lives Spoilers – The Results Are In
When Eric demanded to know why Sloan was acting so strange, she oddly caved with very little pressure and told him that Nicole was pregnant and she had just gotten a DNA sample from his cheek while he slept to help her out. Eric confronted Nicole and she knew she now had to be honest with EJ too.
Now, both men are with her at the hospital when Kayla Brady Johnson (Mary Beth Evans) hands her the test results and she learns who fathered her child.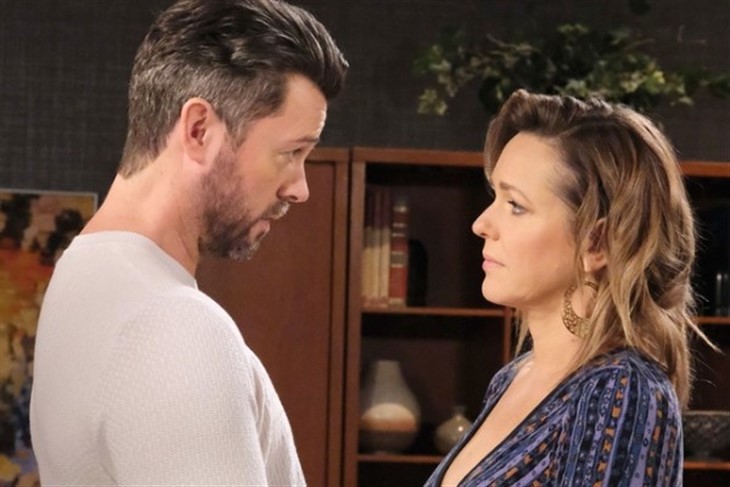 DOOL Spoilers – Bad News For Eric Brady
And just like that, poor Eric's dreams of becoming a father are dashed once again when the results say that EJ is the proud papa-to-be. However, EJ is just thrilled. He is in love with Nicole and wants her to marry him.
After all the trouble they had trying to become parents in the past (and all of Nicole's scheming), they finally have their chance.
Days of Our Lives spoilers show Nicole has to remind him about those troubles and the slim chances of her carrying this child to term. EJ decides to be optimistic and wants to make sure every medical precaution that can be taken is.
"EJ's being very proactive," Daniel Feuerriegel said in the June 12, 2023, issue of Soap Opera Digest. "He wants to make sure that everything that can be done will be done for this baby. He's taking care of his child and his girl. He's looking out or both of them."
But, are the test results correct? Sloan is the one who was in charge of the sample and who is to say she didn't swab herself to make sure the test said that 'Eric' wasn't a match?
Why have Nicole become pregnant at this stage in the game if the baby wasn't going to be Eric's in the end? Stream new episodes of Days of Our Lives weekdays on Peacock starting at 6 AM EST.